Plans to create more financial stability and growth in the sector to be finalised by end of the year
Financial terms for the proposed takeover of £350m-turnover social housing contractor Apollo, by larger northern rival Keepmoat, remain to be thrashed out, despite an announcement of
the planned deal last Friday.
Keepmoat chief executive David Blunt said the planned deal, which would create a £1bn-turnover social housing contractor and developer called Keepmoat, was "still to be worked upon" and only the principle of merging the firms had so far been agreed. Apollo will remain as a brand under the Keepmoat umbrella, and the chief executive of Apollo, Dave Sheridan, will
run the southern regions.
Blunt also said the deal is partly driven by a desire to demonstrate greater financial security to potential customers.
The announcement comes after a torrid year for the social housing sector, which has seen three major firms - Connaught, Rok and Kinetics - collapse inside 12 months, and customers have responded by taking work in-house because of fears over the financial stability of contractors in the sector.
Keepmoat chief executive David Blunt said that a combined firm would have a "stronger financial base". He said: "This gives more reassurance to customers […] who want security."
Apollo was this year shown to have undercut rivals by up to 20%, in a market still stung by the suggestion Connaught and Rok bid too low for work.
Rivals including Bob Holt, chairman of Mears, welcomed the deal. Chris Durkin, chief executive of rival contractor Willmott Dixon Support Services, said: "If this merger creates a stronger business which creates more stability in the sector then it's definitely to be welcomed."
Blunt said the rationale behind the merger, which he hopes to complete by the end of the year, was to provide a better opportunity for growth for both firms. "One business is primarily in the South, one is primarily in the North - there is little overlap. But we are intending to capitalise on the market position both have."
Building reported speculation over a possible deal in November last year. Both firms are in a portfolio of businesses which was owned by Lloyds HBoS until the portfolio's £480m July 2010 sale to Cavendish Square Partners.
Denying the proposed deal had been instigated by Cavendish Square, Blunt said: "We've all been aware of speculation, but only recently have we considered the time is right. I saw Dave Sheridan at Harrogate [housing conference] and the deal was led by that."
Insisting the deal was being treated as a merger rather than a takeover, Blunt said: "Obviously this is not a merger of equals in terms of financial scale, but we are absolutely treating it as such in terms of how we approach it."
Peter Warry, non-executive chairman of Apollo, will become non-executive chairman. Tom Allison, who has chaired Keepmoat for the past three years, will leave once the merger is complete.
ANALYSIS: Together they're stronger
The directors of Keepmoat and Apollo are insistent that this merger represents a huge opportunity to expand. Certainly the logic of bringing the two firms together, one with a big base in the South, the other with a base in the North, has long seemed sound. However, fair or not, some in the market will interpret this as a defensive move by private equity firm Collar Capital which, as the major shareholder, is the firm's ultimate owner. Customers are still jittery following the high-profile casualties of the last 12 months, meaning financial stability is essential to winning business. A successfully integrated firm is likely to offer stiffer competition to other sector incumbents.
DAVID SHERDIAN APOLLO (YEAR TO MARCH 2010)
Turnover £346m
Pre-tax profit £10.3m
Net assets £189m
Debt £87m
Staff 884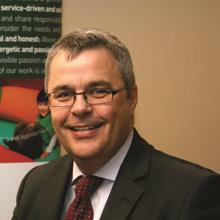 DAVID BLUNT KEEPMOAT (YEAR TO MARCH 2010)
Turnover £604m
Pre-tax profit £68.8m
Net assets £122m
Debt £179m
Staff 2,963