Business barometer: Willmott Dixon tops the chart buoyed by £41m public sector contract
Public work was in retreat this month, but the private sector is filling the gap, meaning the industry saw roughly the same headline figure in October as it did in September.
Without civils, government projects accounted for almost half of all work in September. Last month, that figure had dropped to 45%, but housing and commercial projects rose in value to nudge the total upwards from £1.3bn to £1.4bn.
Sir Robert McAlpine was the biggest beneficiary of this private sector boost, winning a £155m design-and-build job for developer De Vere Estates in London, the second largest project win in October.
Bowmer & Kirkland shot up the table from 19th to 7th, propelled by a £60m contract to refurbish a Warner Bros studio in Watford.
But the other firms that did well last month were far more dependent on the state. Wilmott Dixon jumped from 12th to first position, with at least 89% of its income drawn from public sources such as academies or housing associations, including a £40.8m contract win with Hyde Housing.
Costain picked up over £270m of civils work for the government, including a £219m monster contract for National Grid cables under London, and the £52m remodelling of Farringdon station. The last gasp of schools work helped Vinci put in a strong showing - the firm won £36m in two Sheffield contracts.
If the slight growth in the commercial sector has prevented the lack of public work tipping the industry into freefall this month, things are still grim when compared with this time last year. In October 2009, the total value of work was £1.7bn excluding civils, more than a fifth higher than this year. The average project value has plummeted by almost a third, from £6.3m to £4.3m over the year.
So the government's promise that the end of state largesse will be balanced by private spending is holding - just, and for now. But once the implications of the spending review kick in, the industry will need to brace itself for further drops in public sector work.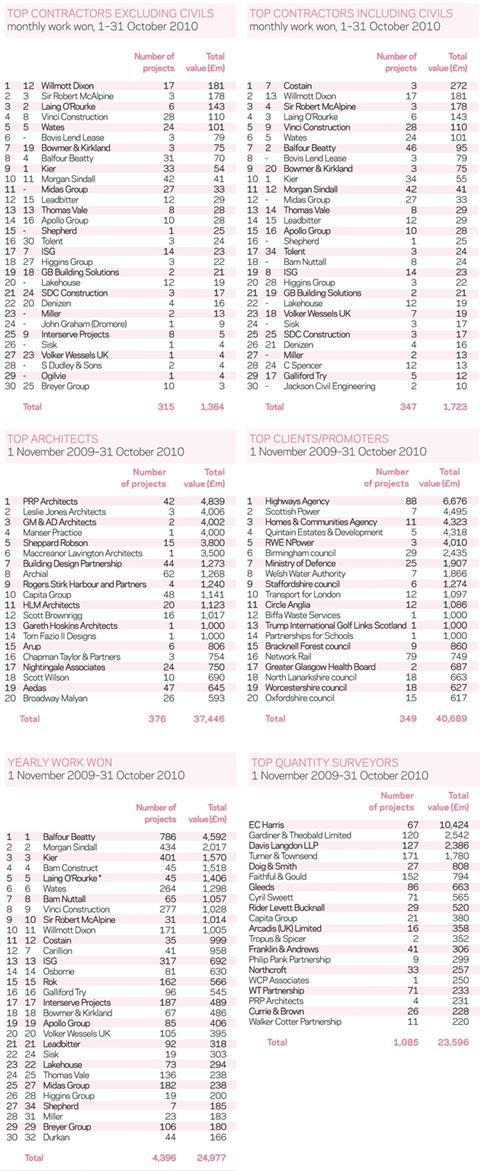 This information is compiled for Building by Barbour ABI. Call 0151-3533 500, email Info@ABIBuildingData.com or see www.barbour-abi.com

Barbour ABI's figures include UK contracts with a value of £100,000 or above, and all work awarded by negotiation or competitive tender, including residential and civils work, unless stated otherwise.