Written evidence due back by 15 January
Days after Crossrail was handed a £825m bailout, Parliament's transport committee has launched a new inquiry into how huge transport infrastructure projects are costed, built and delivered in the UK.
It comes after last month's spending review promised huge amounts for transport as part of the government's so-called levelling up agenda.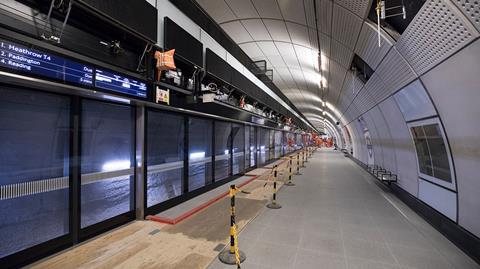 Crossrail has been plagued by a series of delays and cost overruns with the job now expected to finish in the first half of 2022 – more than three years late – and close to £4bn over its original budget.
HS2 has also suffered from an escalating budget with the cost of the line between London and Birmingham estimated to be £56bn in 2015.
But five years later, this had virtually doubled to £100bn with some critics claiming it will cost even more.
Now MPs on the transport select committee, chaired by Tory MP Huw Merriman, have said they will look into a series of topics concerning major transport jobs including accountability and governance, factors influencing their cost and whether the UK has enough capacity and skills to build what the government is proposing.
Merriman said: "The hefty price tag on these transport infrastructure projects brings an equally hefty responsibility on the Department for Transport to ensure the money is spent fairly and projects are managed and delivered well.
"Given the scale of the funding and the breadth of the projects, this could be a time of tremendous opportunity for the Department for Transport. The transport committee is keen to glean an insight to government thinking and practice on what could be a new era for transport infrastructure – if delivered well."
The extent to which the coronavirus pandemic and its longer-term implications will affect future transport infrastructure projects will also be looked into, the committee added, as will government obligations to meet net-zero carbon emissions and how it will do this when building major schemes.
Written evidence is due back with MPs by 15 January.
Areas the inquiry will explore
Transport infrastructure strategy and priorities
The government's transport infrastructure priorities, including those set out in the National Infrastructure Strategy
The contribution transport infrastructure can make to the government's 'levelling-up' agenda and the economic growth of the UK's towns, cities and regions outside London
To what extent the coronavirus pandemic and its longer-term implications affects the necessity and cost-effectiveness of current and future major transport infrastructure projects
How major transport projects can be delivered while ensuring the government meets its decarbonisation 2050 net-zero targets
Appraisal and funding of transport infrastructure
The effectiveness of the government's decision-making and appraisal processes for transport infrastructure projects and any changes required to the 'Green Book'
Oversight, accountability and governance of transport infrastructure projects
The government's role in the delivery of major transport infrastructure projects, including whether the Department for Transport has sufficient skills and expertise to oversee the successful delivery of transport infrastructure
The relationship between the DfT and other government departments and agencies, devolved administrations, and the private sector, in delivering major infrastructure projects
Factors influencing the cost of transport infrastructure in the UK
The reasons for continual high costs of major transport infrastructure projects, both past and present, and whether projects could potentially be delivered in a more cost-effective manner
What lessons can be learned from other countries in the delivery of major transport infrastructure projects
Transport infrastructure capacity and skills
The extent to which there is enough capacity and the right skills within the UK to deliver the government's transport infrastructure plans, and options to help address shortages in transport infrastructure skills