Firm forced to book costs of repair work carried out this year in 2019 accounts
Accounting rules have meant Bam has been forced to book the costs of repair work it began over the summer on a problem job in Sheffield into last year's accounts – which in turn helped send the firm's 2019 profit nosediving by more than half.
Earlier this year, the firm said the entire concrete frame for the University of Sheffield's Faculty of Social Sciences building, designed by HLM, would have to be torn down after problems were discovered with the piling in the spring.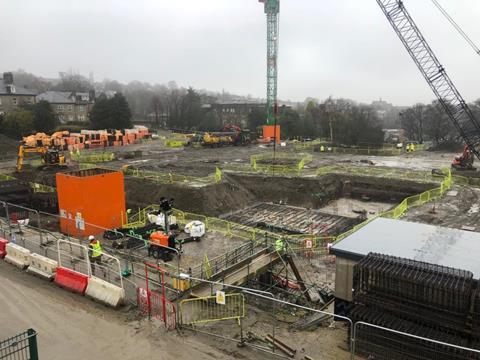 The £65m building is being built on a former reservoir at the junction of Northumberland Road and Whitham Road in the city.
Bam had hoped to only dismantle part of the frame but was forced to concede defeat over the summer and tear it down entirely in order to carry out re-piling work.
In August, the firm said a review into the piling for the structure, carried out by original piling contractor Cementation Skanska and engineer Mott MacDonald, had concluded work on the frame needed to start again.
It said "there was settlement occurring in excess of that which would normally be expected in a structure of this nature" adding: "This [review] concluded the best course of action would be to dismantle the current structural frame then rebuild it."
Piling started up again after work to tear down the frame was completed in the autumn with Cementation finishing work earlier this month – although verification work is expected to last into the new year with tower cranes going up again in January ahead of the frame being rebuilt.
Bam said accounting rules meant it was booking costs for the re-piling work in its 2019 accounts.
A spokesperson said: "Piling for the scheme concerned was completed in 2019 and Bam therefore had to account for this matter in the accounts for the 2019 year despite the associated problems only becoming apparent during 2020. Doing this is in line with general accounting principles."
The final cost of repair work is expected to be north of £10m and in a statement accompanying its 2019 accounts, which have just been filed at Companies House, Bam said it was "discussing a cost recovery plan with the client, the expert subcontractors involved and the insurer".
It blamed the Sheffield provision and weaker demand in general for pre-tax profit in the year to December 2019 slipping 52% to £9.4m on turnover down 2% to £930.5m.
The firm, which is due to wrap up its work on the Facebook building at Argent's King's Cross development in the first quarter of next year, is set to ink several high-profile deals soon including a £230m scheme for Sky in Hertfordshire and work to build a £350m arena in Manchester next door to Manchester City's Etihad stadium.