Local authority chasing firm for damages – but contractor says: 'It's not our fault'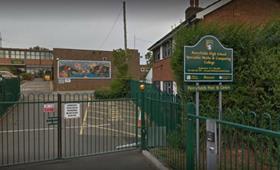 A row has broken out between Interserve and a West Midlands council over who is responsible for the closure of a school building which has forced the local authority to shell out more than £1m on emergency classrooms since January.
Interserve, which yesterday lost its £736,000-a-year finance director Mark Whiteling after just 18 months in the role, completed a 28-classroom building called the Jubilee Block at Perryfields High School, a specialist maths and computing college, in Oldbury in 2012.
But the block, which also includes five offices, has been shut since December last year meaning pupils have had to be taught in temporary classrooms.
Problems have included leaks and the structural condition of the building with headteacher Ian Barton recently telling parents at the 1,100-pupil secondary school (pictured), currently on its Easter break, that it was "unfit for purpose".
Local authority Sandwell signed a deal with Portakabin to hire 12 mobile classrooms for six months at a cost of £250,000 which were brought in this January.
But in a report on the problems, the council revealed it has been forced to truck in a further eight mobile classrooms to the school from Portakabin – the only firm who could offer a quote at short notice – for £800,000. These will be installed next term and include two purpose-built science labs.
Three council directors, two of which are for education and children's services, told a meeting of Sandwell's cabinet last week it had no choice but to pay the £800,000 – or risk breaching its legal responsibility to provide enough school places.
The trio ruled out making repairs to the block because they said survey findings suggested the way in which it was built, as well as a subsequent re-roofing carried out within 12 months of its occupation, "may have rendered the block beyond economic repair".
Sandwell confirmed it was speaking to Interserve about "a remediation package" but added: "No further comment will be made at this stage while discussions are ongoing with Interserve."
But Interserve warned the council it would have a fight on its hands to get any compensation out of the firm.
A company spokesperson said: "Interserve handed over the block in 2012 and the school has not maintained it throughout the [subsequent] period. We expect [Sandwell] will pursue [damages] but we will fight those claims."
In his letter sent just before the school broke up for the Easter holidays, Barton added: "The block [was] well used by staff and pupils…it will be closed for the foreseeable future."
He told parents: "Your children have coped admirably, with good humour that has helped to keep both fellow pupils and staff positive. We will continue to do our very best to provide the best possible education to your children, despite the challenging situation."
The closed block was originally built to increase the school's capacity to 1,200.