Recommendations made by the Association of Accounting Technicians as part of call for evidence by business department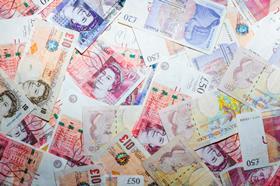 A cross-party group of politicians has backed proposed measures to stop big firms making late payments to their supply chain.
The Association of Accounting Technicians (AAT) has made three recommendations to clamp down on late payers through changes to the government's Prompt Payment Code.
The reforms have been recommended to the Department for Business, Energy and Industrial Strategy (BEIS) as part of its call for evidence on how to create a responsible payments culture in the UK.
The recommendations have been welcomed by politicians from across all political parties.
The AAT said the code should be compulsory for companies with more than 250 staff. Only eight of the top 10 contractors and housebuilders by turnover, as listed by Building in July, are currently signatories to the code – Laing O'Rourke and Taylor Wimpey are not.
It also recommends that payment terms should be halved from a maximum of 60 days to just 30 days. Figures disclosed by contractors show the slowest industry payers are Balfour Beatty and Kier, who each take on average 54 days before paying suppliers. Yesterday it was revealed Laing O'Rourke took an average of 53 days to settle up.
And it proposes setting up a financial penalty regime, enforced by the small business commissioner, for persistent late payers. At the moment there is no mechanism for cracking down on later payers beyond subcontractors' right to take disputes to court.
Conservative Sir Graham Brady MP said: "Prompt payment is essential for most businesses but particularly SMEs who often suffer real problems when not paid in a reasonable timeframe. The reforms suggested by AAT appear to be a good solution to this longstanding problem."
Other supportive parliamentarians include the Green Party leader Caroline Lucas, SNP infrastructure spokesperson Alan Brown, Labour MP James Frith, and Lib Dem business spokesman Lord Fox.
BEIS will be accepting submissions to its call for evidence until 29 November.