Safety precaution introduced after Building magazine campaign set to be axed after just two years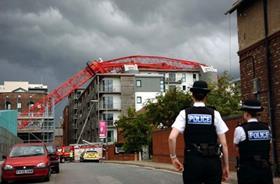 Safety campaigners protested in Whitehall this week over the proposed scrapping of a measure designed to improve tower crane safety.
The Health and Safety Executive (HSE) – which reports into the Department for Work and Pensions – is planning to axe the tower crane register, which requires firms to notify it whenever a tower crane is erected and confirm that it has been thoroughly examined.
The register is one of 14 safety measures that the HSE is proposing to scrap, saying they have "no direct health and safety benefits". A consultation period on the proposals ended
on Wednesday.
The move to scrap the tower crane register comes just two years after it came into force on 6 April 2010. Building campaigned for the register to be set up after the 2006 Battersea crane collapse, in which two people died.
The protest that took place this week involved the Battersea Crane Disaster Action Group, the Construction Safety Campaign and Families Against Corporate Killers.
The HSE said in consultation documents, published in April, that "there is no evidence that the intended effects of [the register] are being realised in any significant way."