EY's simultaneous involvement with government and collapsed contractor was queried last month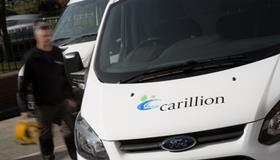 PwC is the latest Big Four firm to be questioned by MPs over its involvement with both Carillion and the government in the run-up to the contractor's collapse and its aftermath.
Following the release of the National Audit Office's report on government's handling of Carillion's collapse MPs running the inquiry into the firm's failure have written to both PwC, who are acting as special managers to the liquidation, and David Chapman, the Official Receiver, seeking to clarify any double dealing.
The NAO's report revealed government appointed PwC on 17 September last year to advise on contingency planning and dealing with the consequences of Carillion's potential insolvency at a final cost of £600,000. Four months later, and 11 days before it collapsed, Carillion also engaged PwC to carry out operational contingency planning for the firm's failure.
The NAO's investigation said the Cabinet Office then employed PwC to help carry out an options analysis at the beginning of January to decide whether to support Carillion.
Co-chairs of the inquiry Frank Field have sent letters hoping to get further details about both PwC's involvement and costs associated with the liquidation.
Field, who chairs the work and pensions committee, said: "As Special Managers, with a contract to print money awarded without any competition, PwC will draw £50m for six months' work. More money for PwC is less money for sub-contractors and the Pension Protection Fund.
"We have further questions about those payments and how PwC's conflicts of interest arising from their long history of work on Carillion are being managed. We have written to PwC and the Official Receiver requesting further information."
He said he was particularly concerned that PwC's conflicts could jeopardise action against individual directors.
Meanwhile, Reeves described the Carillion saga as "the gift that kept on giving – for the Big Four".
She said: "The dice are loaded in the Big Four's favour. They make a killing in fees advising struggling companies how to turn them round and then they pocket millions tidying up when that advice fails.
"On Carillion, taxpayers are left to foot the multimillion pound bill for corporate failure. PwC, who profited from Carillion as it inched towards collapse, are expected to wring at least another £50m from its ruins as the government appointed Special Managers to the insolvency, while thousands of smaller creditors will get nothing at all."
Questions to PwC
1. What actions have you been required to take by the Official Receiver to manage conflicts of interest with your previous work for Carillion, its pension schemes and the Government on Carillion contracts?
2. What actions have you taken voluntarily to manage your conflicts of interest?
3. PwC advised former directors of Carillion whose actions are now being investigated by the IS to determine whether they constitute grounds for disqualification. What actions has PwC taken to manage this conflict of interest and ensure that PwC's work for the IS does not jeopardise any potential disqualification action against former directors of Carillion?
4. The NAO report that you will be paid £50m for your work as special managers. Can you confirm that estimate is correct and how much you have billed and been paid so far?
a) The report also suggests all contracts should be exited or transferred over by the end of August. Are you on course to meet that target?
5. The Report states that PwC are charging a 20% premium on services provided post liquidation.
a) What is the reason for that premium?
b) How much have public sector bodies been charged for this premium?
c) Do PwC receive any of that premium?
Questions to the Official Receiver
1. What actions you have taken to manage conflicts of interest between PwC's work as Special Managers and its previous work relating to Carillion?
2. What role does PwC have in the collection of evidence regarding the actions of the former directors of Carillion?
3. What steps has the Official Receiver taken to ensure that PwC's conflicts of interest do not jeopardise any potential disqualification action against former directors of Carillion?
4. Has the Insolvency Service considered hiring a second firm to support its work investigating possible action against former Carillion directors?
5. The NAO report states that PwC are charging a 20% premium on services provided post liquidation. Did the Official Receiver sign off on that decision and what is the reason for that premium?