Report by law firm DLA Piper outlines detailed proposals following global outrage at construction worker deaths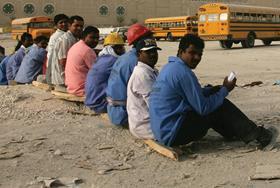 The Qatari government has been urged to mandate 60-day payment periods by contractors to suppliers on public projects, as part of a raft of proposals to improve pay and conditions for the country's 1.4 million-strong migrant workforce.
The proposal is contained in a hard-hitting report by law firm DLA Piper on migrant workers' living and working conditions, commissioned by the Qatari government in the wake of press revelations of almost 1,000 construction worker deaths in two years.
Labour law reforms are likely to have wide-reaching consequences for construction firms working in Qatar, many of which are based in the UK.
The Qatari government is under pressure to act as it begins construction of £4bn-worth of venues and infrastructure to host the 2022 World Cup.
DLA Piper's 60 proposals include reform of the country's 'kafala' sponsorship system to end restrictions tying workers to specific employers, phasing out the exit visa system that requires workers to gain a visa to leave the country and adoption of a minimum wage.
The 135-page report, seen by Building, also recommends imposing civil and criminal liability on contractors for health and safety breaches, enforcing 'humane' worker conditions in all construction contracts, ramping up health and safety inspections, investigating migrant worker fatalities and publishing a list of contractors that fail to uphold standards.
The Qatari government responded to the report last week by announcing that it intends to reform its labour laws and adopt many of the report's proposals, including reforming kafala, but critics said the implementation and timing of the reforms is unclear, as is the nature of the system that will replace existing practices.
Nicholas McGeehan, Middle East researcher for Human Rights Watch, told Building: "We expected the DLA Piper report to be published and for the government to accept the recommendations.
"It has announced it will adopt some, but in other areas it hasn't gone nearly as far [as DLA Piper]."
McGeehan criticised the Qatari government for announcing it will relax its exit visa system by restricting the approval process to no longer than 72 hours, rather than abolishing it, as well as for proposing only to allow employees to switch employers after five years.
He also called for the government to immediately launch a "comprehensive investigation" into migrant worker fatalities, after the report showed that, according to the Qatari government's own figures, 964 migrants died on construction sites in 2012 and 2013.
McGeehan said he was "hopeful more reforms and details will come [… particularly as there's] a lot of leverage with the World Cup", but warned "the level of local resistance to labour reforms could be a barrier".

Key Proposals
Reform of the country's 'kafala' sponsorship system to end workers being tied to specific employers
Phasing out the exit visa system that requires workers to gain a visa to leave the country
Adopt a minimum wage
Enforcing 'humane' worker conditions in all construction contracts and making contractors responsible for adoption throughout the supply chain
Mandatory 60-day payment periods on public work in an effort to ensure suppliers - and their workers - are paid on time
Publishing a list of contractors that fail to uphold standards
Investigate migrant worker fatalities