Massive spending planned for infrastructure, plus new immigration system spelled out
In a Queen's speech that bore a remarkable similarity to the one delivered barely 10 weeks ago, Boris Johnson's government plans to press ahead with a £100bn infrastructure spending spree, bolstering the Northern Powerhouse. It also plans to implement an Australian-style points-based immigration system from 2021.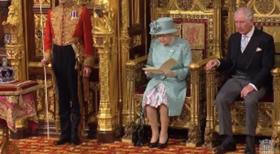 Bolstered by the 12 December general election result which delivered a Conservative majority of 80, and the expected passage of the EU withdrawal bill later this week, the government confirmed it will publish its £100bn infrastructure plan in line with the next budget, which is due to take place in February.
Infrastructure
The national infrastructure strategy will set out the government's long-term plans across all areas of economic infrastructure including transport, decarbonisation, digital infrastructure, infrastructure finance and delivery.
It will also provide the government's formal response to the National Infrastructure Commission's 2018 national infrastructure assessment, which made a series of independent recommendations about what infrastructure needed to be delivered by 2050.
The government also confirmed that, depending on the outcome of the review by Doug Oakervee and the government's response, the bill for the section of HS2 between Birmingham and Crewe would pass through parliament.
It also committed to major investments in the railway including the Midlands Rail Hub and Northern Powerhouse Rail, previously knbown as HS3.
Immigration
Confirmation of a new immigration bill in today's Queen speech would "pave the way for a new points-based immigration system … based on people's skills and contributions to the UK", the government said.
In addition to the legislation, visa schemes would be established for new migrants seeking to work in the public sector, including a fast-track NHS scheme. It will also increase the annual quota for the pilot seasonal agricultural workers scheme from 2,500 to 10,000.
The new single system would allocate points on a range of criteria in three broad categories and it will be focused on skills and talents, not nationality, and include migrants who had received world-leading awards or demonstrated exceptional talent, and sponsored entrepreneurs setting up a new business or investors.
Skilled workers who meet the criteria of the points-based system and had a job offer would meet the new system's requirements, as would sector-specific workers who enter on schemes for low-skilled work, youth mobility or short-term visits.
These provide no route to permanent settlement and will be revised basis based on advice from the migration advisory committee, which is due to report on the proposed points system next month.
There was hope for architect firms looking to recruit more seamlessly from overseas with the abolition of the cap on numbers under the tier-one exceptional talent visa system, although Building is seeking clarification on whether this was only applicable to the scientific community.
Responding to the new points system the Federation of Master Builders warned that it "had to be balanced". Brian Berry, the FMB's chief executive, said: "A skilled construction workforce will be critical to delivering on the government's plans for infrastructure and housing set out in today's Queen's speech.
"Over half of small builders are struggling to recruit a bricklayer or carpenter, yet it could prove very difficult to fill these roles from outside the UK under the proposed points-based immigration system.
Ministers had to work with industry "to ensure that the new immigration system works for construction, and that the [proposed £3bn] national skills fund trains our domestic workforce in the trades that are needed, or else the sector will struggle to deliver", Berry added.
Schools and further education
The government also revealed plans to boost investment in schools by £14bn over the next three years, and "implement the biggest infrastructure revolution in living memory".
The core schools' budget will be £7.1bn higher in 2022-23 compared to this year, and there will be £1.8bn rebuilding programme over five years to upgrade the entire further education college estate.
The government is also planning to establish 20 institutes of technology across England, offering higher technical education and training in science, technology, engineering and maths subjects, while a new £10bn single housing infrastructure fund will support the delivery of roads, schools and GP surgeries needed to support new homes.
Housing
The government said it would "shortly" launch a consultation on its first homes initiative. This will provide homes for local people and key workers at a discount of at least 30%, something that would save such housebuyers "tens of thousands of pounds".
The discount would be secured through a covenant, ensuring that the homes remain affordable in perpetuity. The government also confirmed that the discount would be funded by developers, and it would "consider both planning changes and legislation in order to deliver this [policy]".
However, legislation to enable starter homes is already on the statute books, so it is unclear what new laws will be needed to make the first homes policy a reality.
The government said it would also legislate to require housing developers to become members of the new homes ombudsman scheme that it is setting up.
Hospitals
The government repeated its pledge to build 40 hospitals over the next 10 years, although there were no new details on how much this programme would cost.
Alongside a multi-year funding settlement for the NHS enshrined in law – providing £33.9bn increase in cash terms by 2023-24 – the government said building projects "will provide a range of new healthcare facilities to replace poor estate and provide better patient environment, including emergency and specialist care, and women's and children's services".
Devolution
The government has already published a white paper setting out its strategy for full devolution across England, but said it would provide further information on plans to level up powers between mayoral combined authorities, increasing the number of mayors, and do more devolution deals.
These increased powers and funding will mean more local responsibility.
Late payment
The government said there would be a clampdown on late payment, although it did not detail what action it was proposing to take, other than to say it would strengthen the powers of the small business commissioner "to support small businesses that are exploited by their larger partners".
More to follow…