Contest for £1.65bn deal understood to be between two bidders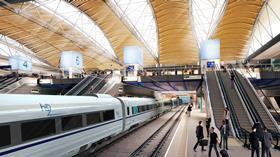 The race to build the new HS2 station at Euston is hotting up with the job now understood to be a two horse race between long-time favourite Costain/Skanska and a team led by Mace.
A winner is due in the next few weeks after HS2 put the decision, originally due by the end of last year, back into the first quarter of this year.
Costain/Skanska is working on the Euston tunnels and approaches track civil engineering contract and was widely considered to be the favourite for the station.
But some are now tipping Mace, which is bidding to be construction manager for the scheme with Spanish firm Dragados, as the frontrunner for the job which has a £1.65bn pricetag. "That's the rumour from subbies," one source told Building. "But it's not confirmed yet."
A third team, a pitch from Bam Nuttall and another Spanish firm Ferrovial, is also on the shortlist.
Mace was in charge of the four year programme of works to redesign Birmingham's New Street station for Network Rail which opened in 2015 under a £776m deal.
Designed by Grimshaw Architects, the station at Euston will have 11 platforms with other work including expanding the existing underground station and linking the entire complex to the nearby Euston Square tube station.
Along with demolition contractor McGee, the Costain/Skanska team started work earlier this month tearing down buildings to make way for the new station.
Last autumn, the pair, along with demolition contractor Keltbray, completed work last autumn demolishing train sheds at Euston.
As well as Euston, HS2 will also announce who will build its £1.3bn sister station at Old Oak Common in north-west London.
The Mace team is also bidding Old Oak Common along with the Bam Nuttall pairing and a team led by Balfour Beatty. The fourth bidder, US firm Bechtel, is pitching on its own. The design team on this station is being led by WSP and includes Wilkinson Eyre.