City council approves five new towers at latest planning committee meeting
Five new towers by Falconer Chester Hall and Hodder & Partners have been given planning permission from Liverpool city council as resident concern over the pace of development in the city steps up a gear.
Social enterprise Engage Liverpool has invited officials from Unesco to the city to offer their views on the impact of new high-rise development – and the £5bn Liverpool Waters project in particular – on the Waterfront, which is a designated World Heritage Site.
But the city council's plannining committee subsequently approved FCH's 39, 33, and 27-tower Infinity scheme for a city centre site at the junction of Lanyork Road and Leeds Street as well as Hodder's 27-storey Ovatus I, earmarked for Old Hall Street.
Plans for an Ovatus II sister building – expected to be 42 storeys – are due to be submitted later this year.
Infinity's towers – united by a two-storey podium – were designed for Liverpool-based developer Elliot Group and would deliver 1,002 apartments, along with a gym, offices and communal facilities. FCH said the development would be Liverpool's third-tallest.
Recommending the scheme for approval, planning officers said it was clear the proposal was "a vastly larger structure" than most in the city centre but said the design rationale was "ambitious and bold" and an opportunity to create a landmark gateway building.
The Hodder-designed tower will deliver 168 apartments, and won praise from planning officers for It's "sufficiently high-quality" design, which they said would "contribute positively" towards the city's tall buildings cluster.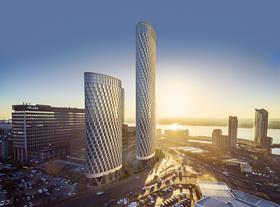 Officers added that the authority's interim head of planning was "satisfied that the development will not harm heritage assets or the outstanding universal value of the World Heritage Site".
A further FCH development earmarked for Bevington Bush, to the North of Liverpool city centre, was also approved. It will deliver 381 apartments and one shop across three blocks, ranging in height from nine to 19 floors.
Tuesday's planning committee meeting also gave its backing to proposals drawn up by KDP Architects for a development of up to 400 new homes in Fox Street.
Those plans would see the conversion of the Swainbanks warehouse building to provide 54 studio flats, with the remainder of the homes – along with four commercial units – delivered in four new blocks of up to seven storeys.