Steve Morgan reveals housebuilder has had to put developments on hold due to a lack of bricks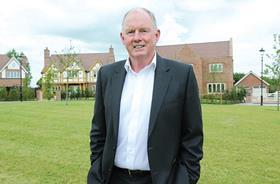 Housebuilder Redrow is having to put developments on hold due to a lack of bricks, chairman Steve Morgan has revealed.
In an interview with Building, Morgan said while the availability of materials and labour had improved in recent months and was now "manageable" overall, Redrow had been forced to stop construction on homes because of a lack of materials.
The availability of bricks and blocks has been a problem for the housing sector since the introduction of Help to Buy prompted an upsurge in production in May last year, with a number of listed housebuilders saying the shortages were driving up prices by 4-5% nationwide and much more in London.
Morgan said: "I could take you to quite a number of our sites where certain plots are completely on stop because there's no bricks, and that's not good, because if you get a house two-thirds of the way up and then stop, then you're stopping everything."
He declined to say how many schemes had been put on hold because of the problem, but added it was so extensive that it was creating a shortage of scaffolding in some areas because of the amount of scaffolding tied up in "on hold" projects.
"You've got scaffolding tied up, so as a result of things like this scaffolding has become a problem trade.
"There's so much scaffolding tied up in half-built homes that there isn't enough scaffolding to go round."
Morgan also hit out at fellow housebuilders for failing to take the responsibility to train staff during the downturn.
"I have to say some of my peers in the industry have not been good at training people. I think they're realising now. I'm not going to name names, but they know who they are.
"People have been dreadful."
The warning over shortages comes as the latest Markit/CIPS PMI survey this week said construction firms are finding it increasingly difficult to obtain blocks and bricks as supply chain bottlenecks tighten amid continuing growth across the industry.
Read the full interview here.