Firm racks up £3.5m restructuring bill in past three years as turnover dropped nearly a quarter last year, latest accounts reveal
Restructuring costs again dogged Byrne Group's numbers with the firm shelling out a further £1.4m in redundancy payments last year to take its cumulative bill for exceptional items in the last three years to more than £3.5m.
The firm, which includes the Byrne Bros concrete arm and its building and fit-out business Ellmer, said the £1.4m came on top of the £1.6m and £593,000 it racked up in payments the two years previously.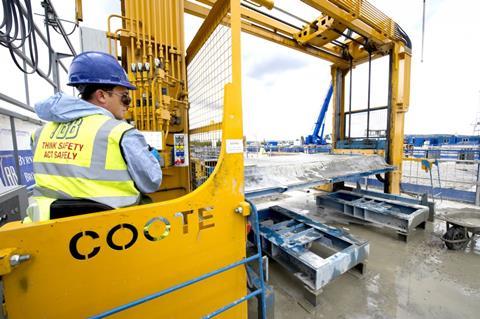 Pre-tax profit in the year to June before exceptional items was £6.2m, up from £5.8m last time, but its redundancy bill dragged statutory pre-tax profit down by nearly 2% to just over £5m.
The average number of monthly staff at the business during the year dropped from 332 to 244, a fall of 27% and a one third reduction on the 366 it employed in the year to June 2019.
The firm said it received close to £308,000 last year in furlough money under the government's Coronavirus Job Retention Scheme which officially came to an end yesterday. It claimed £886,000 under the initiative the previous year.
Byrne, which has been owned by South African builder Wilson Bayly Holmes-Ovcon since 2017, said several of its projects suffered "significant delays" because of the pandemic while "tender opportunities were paused indefinitely" meaning turnover fell 24% to £143m.
It added: "This allowed us to consolidate the business to a smaller, more manageable size going into a very uncertain post covid market."
Schemes the firm's concrete business is working on include an office scheme at Wood Wharf in Canary Wharf and the Peninsula Hotel overlooking Hyde Park in central London.
Byrne Bros saw income rise from £102m to £114m during the year but operating profit went down £700,000 to £5.1m.
But Ellmer, which is building offsite washrooms for Google's offices in King's Cross, as well as carrying out work on the new £230m Marylebone Lane hotel which has involved turning a former car park on Welbeck Street into a boutique hotel, saw revenue nosedive 65% to £29m – although operating profit more than doubled to £1.7m.
The group said cash rose from £27.8m to £31.5m.