Newarthill says £20m of exceptional items eat into firm's bottom line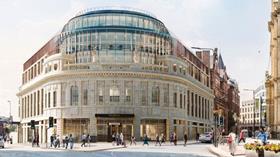 Restructuring costs, closing a pension scheme and being hit with an early repayment penalty on a PPP scheme helped wipe out most of the pre-tax profit Sir Robert McAlpine's parent made last year.
Newarthill said it racked up exceptional items of £20.3m leaving it with a pre-tax profit of just £660,000 in the year to October 2018.
The cost of a rejig at its construction business hit it for £3.8m while it said closing a defined pension benefit scheme saw it having to fork out a further £9.9m. It was also hit with a prepayment penalty of £5.5m when one of the group's PPP subsidiaries repaid its debt earlier than forecast.
In the accounts, McAlpine said it has now pulled out of bidding for energy-from-waste schemes after problem jobs in the sector had helped send Newarthill nosediving into the red the previous year.
In a note accompanying the latest accounts signed by director Cullum McAlpine, the builder said margins at its construction business "remain below its medium-term expectations" and added: "The sectors in which the group operates are highly competitive and operate on low margins. Failure to compete effectively and evolve to clients' needs increase the risk of losing market share and the future viability of the business."
But McAlpine said: "The group's construction business has performed well and [underlying] profits have again increased." Before exceptional items, the firm posted a pre-tax profit of £21m.
McAlpine chief executive Paul Hamer, who launched a five year revamp of the business last year, said: "Our strategy will continue to focus on working with clients who share our business values and to prioritise profitability and risk mitigation over turnover growth."
Among the schemes the firm is working on is a new office for Deutsche Bank in the City of London and turning the grade II-listed Majestic building (pictured) in the middle of Leeds into the national headquarters for broadcaster Channel 4. It is also helping revamp the grade I-listed Royal Albert Hall in London.
Turnover during the period fell 8% to £871m, with £814m of that coming from contracting. A further £46m comes from its work in the Caribbean.