Ealing Broadway improvements, designed by architect Bennetts Associates, get green light despite continued objections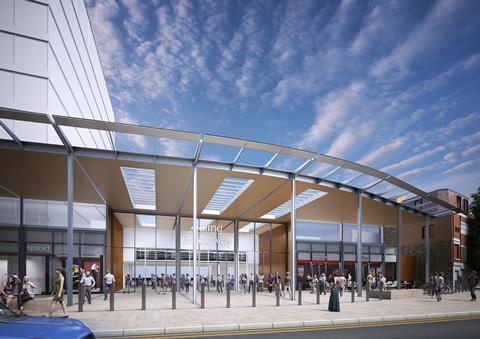 Bennetts Associates has won planning for its controversial proposals for Ealing Broadway station's Crossrail upgrade.
Ealing council approved the revised designs this week despite objections from local campaigners that many of their demands had been ignored.
Bennetts will now work with architect Pascall & Watson which has been appointed by Network Rail to do the detailed design.
Concerns over Bennetts' original plans for all the surface stations at the western end of the route were raised last year by architects including Richard Rogers, after Building revealed that Crossrail was not planning to use design review on its outer London surface stations.
The pressure forced Crossrail to withdraw its planning application for Ealing Broadway.
HOK was brought in by Ealing council to critique the plans and Allies & Morrison and Child Graddon Lewis, both working on nearby developments, also got involved in a six-month community consultation.
Crossrail and Bennetts then submitted revised plans that went before planners this week.
But community group Save Ealing's Centre complained about the timing, saying it was the height of the holiday season.
But a Crossrail spokesman said they held off a month in order to extend the consultation.
"Everyone recognises these designs have come an awfully long way compared with the original designs submitted in December," he said.
Julian Bell, leader of Ealing council, said: "The council worked closely with Crossrail to achieve a very high quality design for the station including plans for a whole new station forecourt with a stunning canopy that I believe will create a fitting gateway to Ealing town centre and set the design standards for other developments around the station."
The scheme also involves four new lifts and a new entrance and ticket hall both twice the size of the existing facilities.
Save Ealing's Centre said in a statement: "Crossrail's new design is certainly an improvement on the industrial scheme that Crossrail tried to foist on Ealing before Christmas.
"However, we think far too many canopy supports will obstruct the station entrance… There is little change to the station internally with no escalators and lifts that may be too small for the numbers of people who will need to use them… Crossrail's revised proposals do not respond to these concerns…
"Compared with the money-no-object treatment you may have seen on television recently Crossrail is giving to its central London stations, Ealing Broadway will be a huge disappointment."
Pascall & Watson will now begin work on the detailed design, working closely with Bennetts which has been retained to "ensure the design intent is adhered to", said the Crossrail spokesman.
The community will continue to be involved in the detailed design stage, he added.
Construction work is expected to begin next summer and to last around 18 months.