Government figures show cost of negotiating deal with EDF went 69% over budget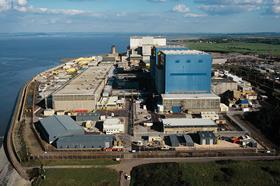 The cost to the taxpayer of the deal to provide financial support for EDF's £16bn Hinkley Point nuclear plant project ran 69% over budget in the last financial year, government figures reveal.
Figures published by the Department of Energy and Climate Change (DECC) last week showed the cost of negotiating the deal for the plant with the French utility firm ran to £6.7m in the 2013/14 financial year, 69% more than the £4m the department had budgeted.
DECC said a change to "project timelines" meant there was "insufficient budget for external advisers" and the cost had subsequently increased.
Through negotiations DECC is working hard to ensure any contract awarded represents best value for money for consumers

DECC spokesperson
The news comes as the project reaches a crucial stage of its development with the European Commission (EC) set to rule on whether the project is receiving too much government support over the next month.
The deal, called a "contract for difference", was agreed last October and guarantees that EDF will be paid £92.60/MWh for the electricity from the plant for 35 years, which is roughly twice the current wholesale price of power.
The government is also underwriting much of the construction risk on the project through its UK Guarantees scheme.
The EC estimates the total public subsidy going to EDF through the deal could be as much as £17bn.
In the initial report of its investigation in January, the EC said that given EDF's maximum expected capital cost the project would be profitable without a revenue guarantee from the government and that the whole contract for difference system risked "crowding out" investment in renewable energy projects.
A DECC spokesperson said: "Hinkley is a multibillion-pound investment – construction alone will cost £16bn.
"Through the negotiations, DECC is working hard to ensure any contract awarded for Hinkley represents the best value for money for consumers."