Mayor's office floats plan to use east-west Thames Tideway tunnel as bike route, when not in use as sewer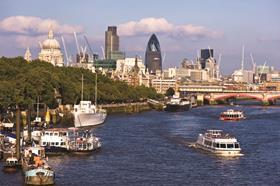 The Mayor of London's office is drawing-up plans to use the London's new £4.1bn super-sewer as a cycle 'super-highway', Building can reveal.
The plan has been inspired by the Stormwater Management and Road Tunnel in Kuala Lumpur, which takes peak hour traffic across the city when it is not carrying storm water.
The London scheme would involve using the Thames Tideway Tunnel, which will run from Acton in west London to Stratford in the east, as a cycle super-highway when it is not being used as an overflow for the city's sewer system.
The Mayor of London has commissioned a team of consultants to conduct a feasibility study and draw up initial designs, with the scheme likely to use cycle ways elevated above the base of the super-sewer tunnel.
Speaking to Building, a well-placed source in the Mayor of London's office said: "We understand that people might initially object to the smell but this will be the most high-tech sewer in the world. The expectation is the smell would be no worse than some streets in Hackney that have a distinctly effluent aroma I'll tell you."
The source added that in the current "austerity constrained" times politicians and engineers had to "summon the creativity of our Victorian forbearers" to create "city shaping" infrastructure.
"We might not be able to afford cycle paths in the sky but our goals have found a real synergy with the Thames Tideway Tunnel project.
"By allowing people to move freely and safely from east to west by bike we will boost London's economy and tackle our climate change objectives," the source said, adding that bike wash facilities would be included at all exit points from the super-sewer under the plans.
A source at the Thames Tideway Tunnel said the proposal was being given "serious consideration" but that the Greater London Authority would need to fund any changes to the scheme.