Firm racked up £6.4m pre-tax loss in 2018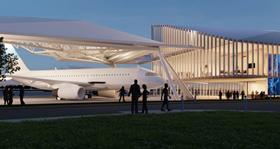 Regional contractor RG Carter slumped to a pre-tax loss of £6.4m last year with the Norwich-based contractor laying the blame with a problem contract for crashing into the red.
The firm declined to name the job but chairman Robert Carter said "the financial reward we have received on the successful delivery of a long term project has not matched the effort and skills expended".
He added the firm, which recorded a £2.2m pre-tax profit in 2017, was speaking to the client on the job and "we are hopeful that the position will be rebalanced to some extent".
Turnover in the year to December 2018 was up 11% to £270m. Underlying pre-tax profit during the period was £2m, down from £2.5m in 2017.
Last month, RG Carter won a £65m deal to build an aviation research centre (pictured) in Bedford for Cranfield University.