Good design could stop £150m a year being spent on unnecessary operations and maintenance, report claims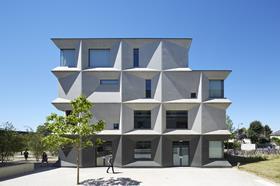 The RIBA is demanding an urgent review of the government's school building programme which it claims is leading to "dangerous, poorly built and wasteful" schools.
In a searing report published today it says millions of pounds are being wasted on expensive, complex and unneeded equipment because of the rigid one-size-fits-all approach adopted by the Education Funding Agency.
The initial and ongoing costs of these systems can be enormous, says the report – "and their failure has left many schools struggling with buildings that simply are not up to standard."
Researchers uncovered evidence of:
+ Local authorities paying to widen corridors and enlarge toilet facilities in newly completed schools.
+ Usable space standing empty because EFA advisers were afraid of breaching space guidelines which they treat as both minimum and maximum requirements.
+ Funding for refurbishments calculated according to standardised dimensions rather than a school's actual size.
The report, Better Spaces for Learning, accuses the £2.4 billion Priority School Building Programme – which was three-times oversubscribed when it replaced the £55 billion Building Schools for the Future programme in 2011 – of wasting taxpayers' money and short-changing pupils and teachers.
Poor environments affect children's behaviour and ability to learn and are also resulting in teachers quitting – all of which have financial implications, it says.
The detailed report is based on what the RIBA believes to be the largest-ever post-occupancy evaluation of primary and secondary school buildings in the UK, a nationwide survey of teachers and discussions with architects and other specialists.
"These conversations indicate that while some good EFA-funded schools are being delivered, the overall standard of new buildings is highly varied, with the worst examples forcing schools to find an extra £500,000 from alternative sources to bring projects delivered by the EFA to a standard that is acceptable to open a school," the report says.
"Poor outcomes are problematic for a number of reasons: locking in higher maintenance costs places a bigger burden on local councils and schools, pupil attainment is not maximised, there is less value for money delivered by the EFA, which impacts other pots of money it allocates."
Good design could have prevented the English school estate from spending upwards of £150 million annually on unnecessary operation and maintenance costs, it said.
It warned that the policy shift from a locally controlled education system means there is a danger that central control would "drown out local circumstances".
The report's author, RIBA policy advisor Emilia Plotka, said: "With the construction of the second batch of PSPB schools underway, there could not be a more important time to look at the issues our research has highlighted."
She said the government and EFA faced a "staggering challenge" as British schools confronted a "perfect storm".
RIBA president Jane Duncan said: "This country is in the grip of the worst shortage of school places in living memory. Our report highlights the vital importance of school design and how it affects the general health and wellbeing of their users, our children and their teachers.
"As limited funding is available to deal with the growing problem, every penny spent on schools must deliver maximum value for money."
AHMM's Stirling Prize-winning Burntwood School should not be the exception but the standard, she said.
"How can we expect our children to compete with the world's best when too many of our school buildings are substandard? Educational improvements resulting from the current programme of school building are not reaching the basic standards that British taxpayers and our economy expects," added Duncan.
"We need to do better for all of our children and their hardworking teachers. We urge the government to review its programme of building new schools."
Key extracts from the RIBA report
The RIBA believes the government should review how the current generation of centrally planned school building projects is working.
The new approach adopted by the government when it established the EFA has succeeded in delivering schools to incredibly tight budgets, but it has also proved to be hugely restrictive in terms of the design and timeframes allowed for the construction of new schools.
This one-size-fits-all approach means that opportunities to innovate or respond to local context to optimise investment are being curtailed. With the right reforms, the results could be much better.
At the heart of our argument is our belief that giving the teams designing and building new schools greater flexibility will enable future schools to benefit from the expertise of the professionals involved.
…
In London the crisis is already acute, and across England rising populations have not been accompanied by new school places. Manchester, Leeds, Bristol, Cambridgeshire, Derby and Hampshire are already seeing serious problems and experts are warning that without urgent action, over the next five to 10 years, as the surge in primary school pupils moves through the system, this problem will worsen and spread dramatically.
A significant part of the school estate is in poor condition or insufficiently maintained. In a 2014 survey of local councils, 23% rated the condition of the schools estate in their areas as 'extremely poor' or 'very poor', with more than two-thirds of schools' in need of refurbishment or renewal'. A further 44% were rated as 'unsatisfactory', with around half of the schools 'in need of improvement'.
The government's latest national survey of the school estate confirms the scale of the problem, with only 5% of the 59,967 school buildings studied classed as performing as intended and operating efficiently.
…
Running and maintenance costs are also diverting money unnecessarily away from the frontline. Between 2015 and 2018 government will spend £4.2bn across schools, local authorities, academy trusts and voluntary aided partnerships towards essential school maintenance – a sizeable chunk of money which could have been avoided18.
Our research found that over the same period, £450m will be spent on heating, cooling and lighting schools which could have been prevented if better design, maintenance and control systems were implemented in the school buildings at the onset.
…
The RIBA summarised its proposals around three themes:
• Reviewing how information and communication flows between the school, government, and design and construction teams during a project.
• Adopting a more flexible approach to the rules governing the design and size of new schools to allow for the best possible use of resources.
• Taking a smarter approach to the use of building management equipment that controls the internal environment of modern school buildings.
Source: RIBA