Leading housing architects criticise institute for "reckless attack" on housebuilders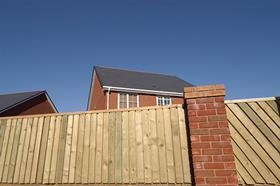 A row has broken out between the Riba and a group of some of its highest profile architect members over the institution's relaunch of its campaign to increase the size of new homes in the UK.
The Riba last week issued research suggesting that more than half of new homes built and sold last year are not big enough for the people who buy them to live in, with some three bedroom homes missing an amount of space equivalent to an entire double bedroom. Riba president Jane Duncan described some of the homes as "tiny rabbit-hutch new builds."
However, a group of the most established housing architects in the UK, including former Stirling Prize winner Richard Lavington have hit out at the campaign, dubbing it "a reckless attack on the house building industry, resorting to pejorative sound bite language, and with the possible outcome of alienating an important market for architects' services."
The statement condemning the RIBA was signed by the bosses of nine leading housing architects: Andy von Bradsky from PRP; Ben Derbyshire from HTA Design; John Assael; Stephen Proctor and Andrew Matthews from Proctor & Matthews; Alex Ely from Mae Architects; Andrew Beharrell from PTE; Richard Lavington from Maccreanor Lavington; and Levitt Bernstein founder David Levitt.
The statement also says the RIBA "ignored the advice of its own housing experts who have pointed out the flaws in its research and signalled alternative approaches to working with house builders".
It says: "The RIBA's aim is to persuade government to embed Nationally Described Space Standard in building regulations by amendment of the Housing and Planning Bill.
"It should have been perfectly possible to enlist house builders in the campaign and instead the RIBA chooses to publicly insult them."
Assael and Derbyshire are RIBA Council members, and their complaint comes just days after fellow Council member Elsie Owusu accused the Riba of institutional racism.
The row comes after the coalition government announced plans in 2013 for a national minimum space standard based on the London housing space standard. However, the standard will not be compulsory, with councils allowed to adopt it if desired. Riba is campaigning for the standard to be put into building regulations and made compulsory in all locations, noting that homes in Yorkshire are by far the smallest in the country.
However, the nine housing architects say they are "imploring" the RIBA to abandon the entire campaign.