Institute to introduce 'graduate' and 'fellow' membership categories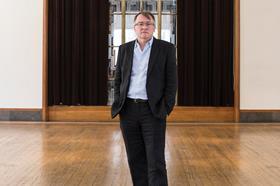 RIBA Council has approved a new membership structure which will introduce new 'graduate' and 'fellow' membership categories.
The 'graduate' class will formally recognise academic achievement and the 'fellow' class is reserved for architects "at the height of their profession" and will be assessed on individual merit and achievement, the Institute said.
In a statement today, the RIBA added that it is seeking to modernise the "RIBA professional pathway" and had spent 18 months on researching and consulting on the move.
However, there will be no immediate change to the membership structure with the modernisation plan to be discussed further by RIBA Council in December.
RIBA President Stephen Hodder said: "The RIBA is committed to providing membership that is valued, sustainable for the 21st century and above all stands for professional excellence and achievement.
"The upcoming changes to the membership offer will ensure that the RIBA encourages wider diversity, including EU & Internationally based architects, whilst not diminishing the high standards or status of RIBA chartered membership.
"The changes have been developed following our recent membership review, the most comprehensive for in 25 years. These are important steps in providing an improved, streamlined membership offer that will deliver what our members have told us they want."
The following criteria, affixes and labels were agreed by Council for "future implementation":
Student: Enrolled on a Part 1 RIBA validated course, or successfully completed Part1 within past 2 years. Will be able to use label: 'Student member of the RIBA'
Graduate: Enrolled on a Part 2 RIBA validated course or completed Part 1 RIBA validated course and doing PEDR. Will be able to use label: 'Graduate member of the RIBA'
Associate: Parts 1 and 2 qualified and enrolled on a Part 3 RIBA validated course or doing PEDR; or EU directive recognised qualified. Will be able to use new 'AssociateRIBA' affix – this has been created expressly to differentiate between our chartered members.
Chartered: Parts 1,2 and 3 qualified; or EU directive recognised plus Part 3; or EU directive recognised plus 5 years' experience (incl. 2 years PEDR & MEAP); or full MEAP assessment for international qualification and experience. No group eligibility. Will continue to us the 'RIBA' affix.
Fellow: Chartered member for 5 years or more with assessed evidence of distinguished achievement in architecture. Will be able to use new affix: 'FRIBA' – this is different from the historical Fellows class that existed 40 years ago and will only be awarded on merit.
Affiliate: Part 1 or 2 qualified pursuing a career outside of the practice of architecture; or qualified co-professional working within the built environment, or non-architect qualified academics teaching in validated school of architecture. Can use the label: 'Affiliate of the RIBA' – this will help the RIBA to engage more closely with other construction and creative industry professions who have trained in architecture but have pursued a career outside of architecture.
Chartered Academic Member: 'Chartered' name given to validated schools of architecture that join the RIBA's academic membership class.