Plan of Work for Fire will offer updated fire protection advice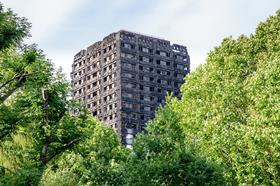 RIBA will be unveiling its latest fire safety guidance at a special conference next month as part of industry efforts to "fill the gaps" in the UK's fire protection processes.
The Plan of Work for Fire aims to ensure there is a detailed specification for fire protection at the design stage of a building and a schedule for fire protection throughout the construction and facilities management process.
The document, which RIBA started work on late last year, will be published at the 'Protecting Lives: Design & Construction Post-Grenfell' conference, to be held at the institution's London HQ on 12 June.
Bolton-based Sherwin-Williams Protective & Marine Coatings (SWPMC) is among those supporting the new initiative, working with RIBA and the Association of Specialist Fire Protection (ASFP).
Bob Glendenning, global fire engineering manager for SWPMC, said: "The design, materials and products in use on today's modern complex buildings is changing, and as a result fire performance needs to be factored in as early as possible, not at the end."
The full Hackitt review into building safety following last year's Grenfell Tower fire is expected by the end of May but an interim report published earlier this year argued the current regulatory system for ensuring fire safety in high-rise and 'complex' buildings was not fit for purpose.
"This applies throughout the life cycle of a building, both during construction and occupation, and is a problem connected both to the culture of the construction industry and the effectiveness of the regulators," it added.
Hackitt's interim report said current regulations and guidance were "too complex and unclear", and compliance, enforcement and sanctions processes were "too weak".