Report suggests that BIM will improve profession rather than reducing its relevance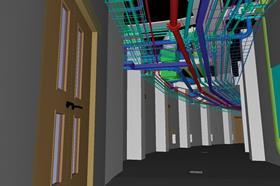 Building Information Modelling will "enhance rather than damage" the quantity surveying profession, according to a new report published this week by the RICS.
The report, produced in conjunction with the University of Salford, found Building Information Modelling (BIM) could "significantly improve" the efficiency and accuracy of quantity surveying functions, including cost estimating and planning processes.
The RICS argues greater automation of quantity surveying functions – sometimes dubbed "BIM estimating" – would "actually increase the relevance of the profession" rather than diminish it.
BIM can automate measurement, speed up traditional estimating process and better capture, manage and deliver project information, the report found.
The report, How can BIM support the New Rules of Measurement, offers a practical guide for QSs on how to use BIM to improve QS functions.
Alan Muse, director of built environment professional groups at RICS, said: "We have long held the view that BIM will enable and support QSs […] This research fully supports that."