RICS' Rural Policy Paper proposes large rural estates be encouraged to release land for affordable housing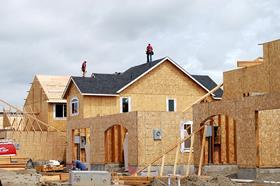 RICS is calling for large country estate owners to release land for affordable housing as part of its recommendations in the RICS Rural Policy Paper.
The paper sets out suggestions as to how central and local government could better manage rural land and support countryside communities, including offering incentives to large landowners to release space on their estates for eight or more affordable houses.
A scheme has already been pioneered this year in East Devon where Lord Clinton, the largest private landowner in the county, has worked with Cornerstone Housing Association to develop 19 affordable homes in the town of Budleigh Salterton, made up of both rental and shared ownership properties.
RICS also recommends the government extend the current devolution agenda to market towns to further boost rural economies.
Jeremy Blackburn, head of policy at RICS, said: "Affordable rural housing is fast becoming a thing of the past. There is a reported 76% shortfall in rural affordable housing. If our rural towns and villages are to thrive, we need to take action to ensure that workers are available to drive local economies.
"There are some countryside communities where the average cost of a house can outstrip average annual wages 11 times over. Rural poverty is a serious issue that threatens to hamper regional growth," he added.