Key report finds expectations for remainder of year have collapsed
Workloads have fallen into negative territory for the first time since 2012 because of the coronavirus pandemic, according to the RICS.
Its Q1 2020 UK Construction and Infrastructure Market Survey found the headline workloads indicator fell to -3% from +12% in the last quarter of 2019.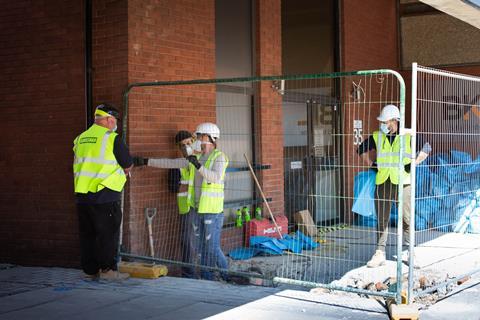 The majority of respondents forecast a fall in workloads and profit margins as well as a decline in new hires in the coming year.
The RICS said the responses show confidence fell off a cliff once Boris Johnson put the country into lockdown.
Responses received between 5 and 26 March were still indicating a broadly resilient sector, with the majority of firms reporting a pick-up in workloads with a score of +16%.
But those received between 27 March and 7 April, when the country was put into lockdown, signalled a sharp downturn in workloads with most respondents reporting a decline to record a score of -21%.
Momentum has slipped across all market sectors apart from infrastructure, where contributors reported a modest rise in activity.
Private and public housing workloads stagnated in quarter one, while activity fell in the private commercial and industrial sectors.
The survey also pointed to a huge drop in output over the coming year, with headline workload expectations crashing to -13% in Q1 from +50% in Q4 last year – a swing of 63%.
And the RICS market confidence indicator, a composite measure of workloads, employment and profit margins expectations over the coming 12 months, also fell sharply from the +35% recorded in the final quarter of 2019 to -23% in the first three months of this year.
Profit margins were also expected to see a sharp fall in the coming year, with 43% more surveyors now anticipating a drop.