David Adjaye lands Latvia prize
Adjaye Associates has won the competition to design a €30 million art museum in Latvia.
The architect beat five other finalists including another UK practice, Caruso St John, to land the job in the invited international competition for a Latvian Museum of Contemporary Art in Riga.
David Bickle, the chair of the jury and design director of the V&A in London, said it was a "beautiful and poetic response". David Adjaye's practice is in a team with AB3D. It was a condition of entry that all international practices work with a Latvian architect.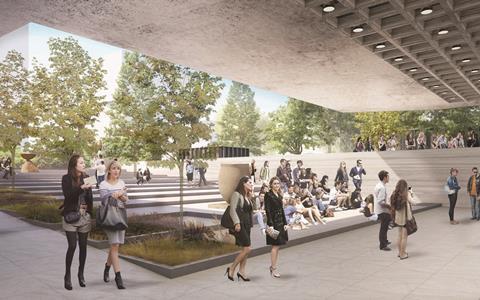 Bickle said: "The [winning] team thoroughly understood the effect of soft northern light in experiencing and creating art and this insight was the inspiration for their scheme.
"Through the use of wood and form, the concept design subtly references Latvian architecture, proposing a very animated structure with a lively entrance that will enable the museum to create architectural presence in a new and emerging district. The design is very welcoming and porous – it has the potential to be loved."
Adjaye's design is characterised by a highly animated tilting roof geometry which is designed to bring soft northern light into every gallery.
The jury said the building's silhouette was "compelling" and would give the new museum presence in New Hanza City, a commercial and residential development on the edge of the historic centre of Riga.
The Latvian Museum of Contemporary Art in Riga, the country's first major public-private cultural initiative, is intended to support Latvia's growing artistic community and give the Baltic region a major attraction.
David Adjaye, principal of Adjaye Associates, said: "I am honoured to have been selected for this ambitious and much-needed project. This museum will be a beacon that both celebrates Latvia's incredible artistic legacy and meaningfully links the country to the international art community."