Firm eyes growth in sector as part of 2030 strategy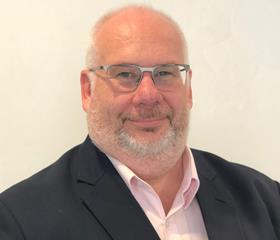 Growing consultant Rider Levett Bucknall has said it wants to double its programme management workloads to more than £10m after the firm raided Aecom for a new national head of the division.
RLB, which saw turnover in the year to April jump 14% to £80m, has poached Darron Cox from the US giant where he was based in Dubai working for the firm's programme management arm.
Cox (pictured) joined last week and has been tasked with growing RLB's programme management workloads from around £6m a year to £11m over the next four years.
He will be based at the firm's London office near Liverpool Street in the Square Mile but RLB main board director Andy Reynolds said his role was a national one.
He said the appointment had been made as part of its 2030 growth strategy plan which it is discussing with the firm's 675 UK staff ahead of a formal launch later this year.
Speaking about Cox's role, he said: "It's part of a broader look at how we provide expertise to clients. We want to shift the focus from not just delivery but to strategic advisory at the outset as well."
The firm is targeting programme management work in areas such as government and the tech and data sectors and Reynolds added. "We're cautiously optimistic about the opportunities for our company."
RLB's project management arm currently has income of £16m which is set to grow to £19m by 2023 meaning the programme and project management businesses will have a combined turnover of £30m – around one third of the firm's planned overall workload by that date.
Its project management arm is headed by Guy Robinson, who was promoted to the position earlier this year.
Between them, the programme and project management businesses employ around 175 staff but Reynolds said this number would grow to as much as 280 by 2023.
The firm is forecasting turnover of £108m in the next four years with the business expected to employ 850 people. But Reynolds said most of this rise will come from organic growth rather than snapping up rival businesses.
RLB, which worked on the University of London's Beatrice Shilling Building, designed by Stride Treglown and which opened in March, bought Liverpool QS Todd & Ledson in April – only its third acquisition since the firm's MBO in 2003.