Route near World Heritage Site has been partly modified but controversial tunnel stays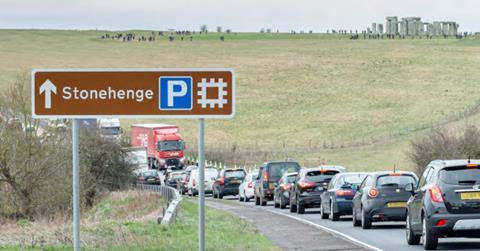 Highways England (HE) has confirmed plans to bore a 2.9km-long road tunnel under the Stonehenge World Heritage Site (WHS) in Somerset, as part of a proposed scheme to alleviate traffic congestion on the A303 and surrounding local roads.
The tunnel has been welcomed by heritage groups, who said the plans would "open up and re-unite the historic landscape".
Following a public consultation on earlier proposals, HE has announced it will stick with building the tunnel, which it describes as "sensitively designed", as well as a new junction between the A303 and A345, a new junction to the west of and outside the WHS, and a bypass to the north of the nearby village of Winterbourne Stoke.
Although the route has been partly modified since consultation, key features of the scheme remained the same.
"There has been no change to the eastern section of the route, meaning the location and design of the eastern tunnel portal and the A345 junction we proposed at consultation will now be optimised, along with the other elements of the scheme, as part of its ongoing development," HE said.
"However, the western portal and the route in the western part of the WHS are now much closer to the line of the current A303. This avoids many important archaeological sites, including the newly-discovered barrows just to the east of the A360.
"The modified alignment also avoids any risk of the road intruding on the view of the setting sun from Stonehenge during the winter solstice," it added.
HE plans another round of public consultations relating to the proposals for the A303 between Amesbury and Berwick Down. These will include what are described as "mitigation measures" on how to limit the impact of construction work.
"Neither Stonehenge itself, nor other scheduled features in the WHS, will be under any risk of disturbance through construction, or during the future operation and maintenance of the new road," HE added.
Assuming these proposals meet no resistance, the scheme will apply for a development consent order, which if granted will see it go before the secretary of state for transport. If it is then given the go-ahead, work will begin on site in 2021.
Historic England, the National Trust and English Heritage said they welcomed the re-jigged route, "particularly in relation to the winter solstice alignment".
The trio said in a joint statement: "We also want to see the globally important archaeology protected, the settings of the ancient burial sites respected and the views between those sites restored.
"It is now critical to ensure that the benefits of this new route can be realised through careful design and mitigation of archaeological risks, particularly at the western portal of the tunnel and the approach road.
"We remain committed to working with all those with an interest in the World Heritage Site to protect it and help people to better enjoy and explore this iconic place. We believe that this road scheme, including a bored tunnel of at least 2.9km, can achieve that aim by opening up and re-uniting the historic landscape."