Caracas project began with a commission to design a bus station and will be firm's first football stadium
Rogers Stirk Harbour & Partners has unveiled images of its first ever football stadium.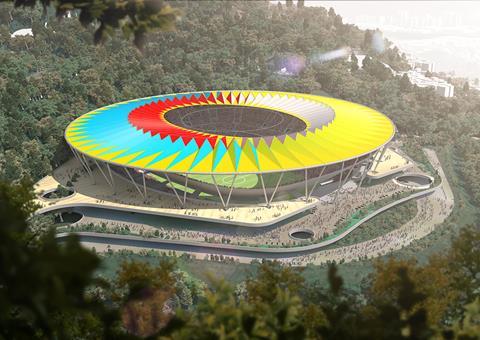 The Estadio Nacional de Fútbol de Venezuela will sit on a hillside in Caracas providing views of the city to the north-east.
The practice picked up the stadium after being commissioned to design a new bus station for the city.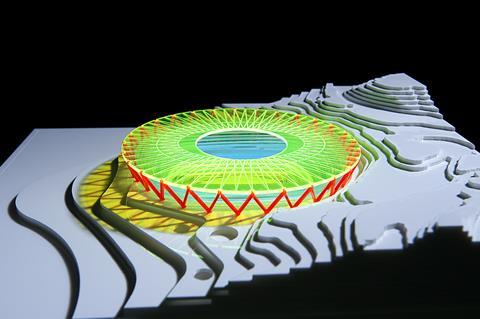 Phase one of this project involved creating a masterplan for an area known as La Rinconada.
This includes establishing a transport interchange linking the new bus station with an existing metro and train station. It also establishes a new park protecting the surrounding hillsides from further development.
The stadium will be built in the park alongside existing sports facilities, including a listed racecourse designed by Arthur Froehlich in 1959.
The Estadio Nacional de Fútbol de Venezuela, designed with engineers Arup and schlaich bergermann und partner, features a lightweight, brightly coloured bicycle wheel canopy roof intended to "capture the joy and vitality of the city and its people".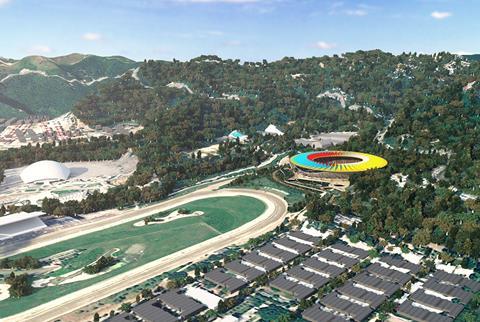 Simon Smithson, lead partner for the project at Rogers Stirk Harbour & Partners, said: "The hillside site created an unusual challenge and the design reflects this, with terraces cut into the landscape giving way to a series of floating esplanades that provide access to the various levels of stadium."