Failure to find a buyer means 768 redundancies north of the border
Scotland has been hit hardest by Rok job losses as administrators proved unable to find a buyer for most parts of the failed company.
On Tuesday 1,800 redundancies were announced by administrator Pricewaterhouse Coopers, following the layoff of almost 1,000 last week, leaving the company with just 650 mployees at the time of going to press.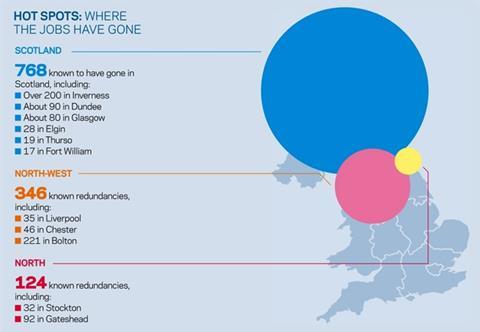 The administrators shut down the entire Scottish construction part of the company, after at least 337 redundancies were made north of the border last week.
Dear All,
Today is my last day at Rok. I have just been told that I, like many others, am now redundant.
I wanted though to thank you all for making Rok such a special place and one, that despite the way it is ending, we can still be proud of in so many ways.
In the coming weeks and months you will read and hear lots of rumour and conjecture as to why we went into administration. I would love to tell you what I think caused it but I would probably be sued and that's a problem I could do without.
I am just so sorry that so many of you and others in our supply chain have to suffer due to something way beyond your or their ability to control or influence.
Try not to see this as the end though but as a new beginning. We created something special and as somebody said to me today 'now is our chance to go and spread the things we learned into other businesses.'
I hope you do and that you will look back upon Rok with affection. Thank you, each and every one, for making Rok such an exciting place and good luck in all you do in the future.
Keep on Roking!
Garvis
More than 200 workers were laid off in Inverness and 768 were made redundant in the country as a whole, it is understood. Close to 90 were thought to have lost
their jobs in Dundee, and nearly 80 in Glasgow.
Ian Brown, a Scottish National Party councillor for Inverness, said that while local construction firms might take on Rok's existing contracts, he doubted whether they had the financial strength to take on its staff.
"Workers will struggle to get new work before the new year because companies will take on the contracts but would be reluctant to take more people on," he said.
Harry Frew, regional secretary of Ucatt in Scotland, said some workers had not been told of their redundancy by either the administrator or Rok.
He said: "It's outrageous that many […] only found out that they were losing their jobs through news reports. This is an appalling manner to treat a dedicated workforce."
Meanwhile, Rok employees this week revealed that their former boss, Garvis Snook, sent them a bizarre email on the day Rok entered administration telling them to "keep on Roking" and to "try not to see this as the end but as a new beginning".
Snook, who has not made any public statement since Rok collapsed on 8 November, sent the message two days before 700 workers lost their jobs. He stated that for legal reasons he could not explain why Rok had failed.
"In the coming weeks and months you will read and hear lots of rumours […] as to why we went into administration. I would love to tell you what I think caused it but I would probably be sued and that's a problem I could do without," he wrote.

Clients seek to replace Rok
Rok clients are moving to engage new contractors to minimise the impact of the company's demise on their work after hopes of the firm's contracts being sold in large packages fell away.
Morgan Sindall and Leadbitter are known to be interested in picking up former Rok work, with Mears, Mitie, Galliford Try and Willmott Dixon all expected to chase deals.
Drinks giant Diageo, for which Rok was working on several projects, including an £86m bottling plant and a £65m bio-energy plant, said its priority was to restart work as quickly as possible. "We have already begun discussions with potential contractors to take on the work," it said. "We will progress this as a matter of urgency."
Karen Dragovic, head of housing at St Albans council, which awarded Rok a £14m housing maintenance contract last November, said it had put in place contingency plans to ensure council house repairs continued.
Meanwhile, clients that signed Rok on to framework agreements are safe as they can appoint alternative contractors from the framework.