Contractor cuts staff, mainly in the Netherlands, as part of £79m restructure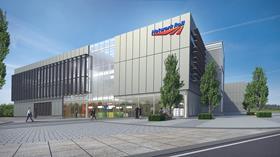 Royal Bam, the Dutch parent of Bam Construct and Bam Nuttall, is to cut 650 jobs as part of its €100m (£79m) cost-cutting drive following €75m (£60m) losses on problem projects in the UK and Germany.
In an announcement this morning the firm set out details of an extensive restructure of the business in a bid to cut "duplication" and achieve "economies of scale" from a "simplified structure".
The announcement follows a bleak set of financial results for the firm. In August it reported a pre-tax loss in the first half of 2014, after impairments and pensions costs, of €6.6m (£5.3m).
The results were dragged down by heavy losses in its construction and civil engineering arms including a €3.8m loss (£3m) for the UK business
Bam had already warned the market in July that its UK business was one of the the sources of €75m (£60m) of losses on problem jobs.
Despite this the UK arm of the firm appears to have escaped job cuts, with Royal Bam saying the job losses would be "mainly in the Netherlands" where it has around 9,700 staff.
Royal Bam said the job losses would also be "mainly white collar" and "back office" staff.
As part of the restructure it will merge the twelve companies it operates under in the Netherlands into two covering construction and civil engineering respectively – mirroring the structure in the UK where it operates as Bam Construct and Bam Nuttall.
In Belgium, it will merge its six operating companies into one.
The company has also put in place a management committee composed of its executive board directors; the managing directors under the new structure; and directors of key service departments.
Bam said it expected the changes to result in annual savings of €100m (£79m) a year by the end of 2015 and would cost between €80m (£63m) and €100m (£79m) to implement over 2014 and 2015.
It also said the changes would bring "improvements" in its "tending processes and project execution".
It said: "As a result, the quality of new order intake will continue to improve, while at the same time Bam works through its backlog of older projects."
Rob van Wingerden, chief executive of Royal Bam who was appointed at the beginning of this month, said the changes would "strengthen" Bam's "culture" and "sharpen" its processes.
He said: "Our recent performance shows that we need to change in order to deliver on our group strategy and capitalise on our potential."