RMJM's original design retained but scheme will now be overseen by Gorproyekt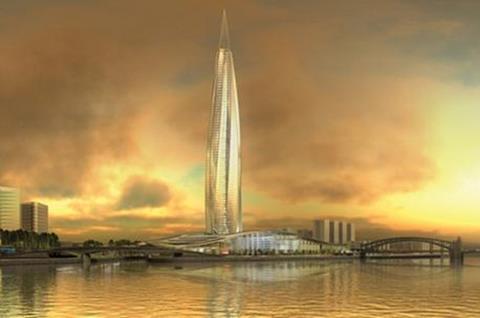 A Russian practice has been appointed to the Gazprom tower project in St Petersburg, replacing original architect RMJM on the scheme.
Construction work is expected to begin soon on the delayed skyscraper with the Russian energy giant, which is the subject of EU and US financial sanctions because of the Ukraine crisis, having appointed South Korean conglomerate Samsung to build the 86-storey Lakhta Center earlier this month.
RMJM won the competition to design the 462m tall tower back in 2006 but the scheme later stalled due to the global financial crisis.
The intervening hiatus saw RMJM's architect in charge of the job, Tony Kettle, leave the firm to set up his own business back in 2012.
While RMJM's original design for the skyscraper has been retained, the firm has now been replaced on the project by Russian practice Gorproyekt.
Samsung's official role is construction and design manager and a Gazprom spokeswoman said: "Samsung was appointed…on the Lakhta tower project this month, indicating above-ground construction works on the tower will commence soon."
She confirmed that Gorproyekt will "deliver the design" while Aecom has a construction control and technical supervision role on the project. Other project team and supply chain roles are still being finalised.
Once complete, the tower will be the tallest in Europe, eclipsing two towers in Moscow's financial district and Renzo Piano's 306m-tall Shard in London.
The tower's location moved from the centre of St Petersburg to the outskirts in 2011, after attracting widespread criticism from conservationists and heritage body Unesco who said that it would ruin the historic city's skyline.
Foundation and piling works on the Lakhta tower are largely complete at the site (pictured below), having been built over the past 18 months by contractor Arabtech, which, along with Samsung, worked on the 830m high Burj Kahlifa tower in Dubai.
This story first appeared on Building Design