Contractor admits stadium due to host opening game and England's match with Uruquay won't be completed until after tournament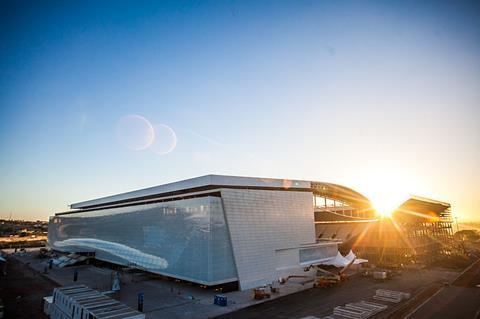 The roof of the Brazil World Cup stadium that is due to host the match between England and Uruguay will not be finished in time for the competition, the contractor on the project has admitted.
According to the Associated Press, glass panels which are designed to protect fans attending games at the 70,000 capacity Itaquerao stadium in Sao Paulo from rain will only be installed after the competition closes in July.
The stadium was initially due to be handed over to Fifa last December.
Constructor Odebrecht has said that there was not enough time to have the glass covers installed before the tournament's kick off next month, but has insisted that it would not affect fans attending the game.
The firm has already admitted that not all fans in temporary seating behind the goals at the venue will be covered from rain during the World Cup.
The Itaquerao stadium is set to host five matches, including the opening game between Brazil and Croatia, England's match with Uruguay and one semi-final.
It is one of three stadiums which are yet to be completed and the latest news is part of a string of problems facing organisers in the run up to the World Cup this June.Two workmen were killed at the Itaquerao stadium construction site in November when the ground beneath a crane used to construct the roof gave way and it crashed into one of the main stands.
According to The Times, of 168 World Cup projects announced in 2007, only 41% are ready, with 53% late or due to be completed only after the final and 11% abandoned.
Fewer than half of the country's major infrastructure projects are complete and the government has faced protests at the escalating costs of hosting the tournament.
Two major transport projects - Rio's TransCarioca bus corridor and the light railway tin Fortaleza - which were promised as part of the World Cup legacy will also not be ready in time for the tournament.