Public procurement body finds output rise in quarter following 87% of previous elections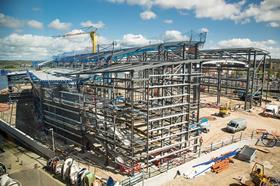 The property and construction sectors are predicted to grow after the general election regardless of who is in power, according to research by Scape.
The public procurement body analysed data from 15 previous general elections and found that output increased in the quarter following 87% election results since 1955.
The results found construction output growth increased to 6% in a post-election quarter, compared to 4% in a non-election year.
Average property prices also rose during an election quarter with prices increasing in all election years since 1983. Seven of the last eight elections also saw the number of housing starts increase by an average of 18% compared to the preceding pre-election quarter.
Scape looked at ONS data along with historic data from the Department for Communities and Local Government as well as the Council of Mortgage Lenders.
However the results show that after the latest election in 2010 property prices fell in the quarter following the election, and construction output managed to grow by only a meagre 1%. New dwelling starts also fell in the quarter following last five general elections.