The schools capital agency says privately-financed projects will have to achieve triple-B minus credit rating to draw down funding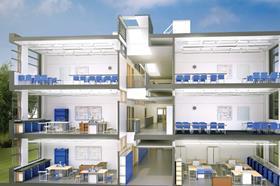 Contractors bidding for work under the £700m privately-financed element of the Priority School Building Programme (PSBP) will have to achieve an "investment grade" credit rating to take part, it has emerged.
Sara Humber, commercial manager in the private finance team at the Education Funding Agency (EFA), the quango procuring the schools on behalf of the Department for Education, said each of the five privately-financed schools batches will need to achieve a credit rating of triple-B minus in order to be able to draw down funding.
The new stipulation is required because of the way the EFA has decided to raise the private finance for the programme, with a single "aggregator" sitting above the batches charged with raising the long-term debt funding, and then supplying the money to the individual schemes.
The news follows the decision, announced earlier this month, for the EFA to reduce the element of the PSBP programme funded by PF2 – the government replacement for PFI – by over £1bn to just £700m.
Humber said: "In terms of how teams are chosen at pre-qualification, the funding solution will be a driver. All projects will have to achieve a triple-B minus grade rating in order to work. It will be a case of having to get over that bar to get in.
"The underlying projects must be triple-B minus rated for the aggregator to work."
Humber, speaking at a conference in London yesterday, said that the procurement and financial close for the PF2 projects will have to be completed in a total of 68 weeks, a process that includes just a single stage of competitive dialogue lasting no more than 36 weeks.
She confirmed the first batch to be procured will be the £122m Hertfordshire, Luton and Reading batch for seven schools, with the OJEU notice for tenders to be issued in June.
Steve Beechey, group investment director at contractor Wates, said at the same conference that the credit rating requirement could be a problem for smaller contractors looking to bid in to the programme. He said: "The issue is we'll all have to go out and get a credit rating, which will challenge some companies in the construction sector.
"It isn't as simple as saying 'your turnover is below a certain figure, you can't get a rating.' It's not something that'd be a problem for the likes of Wates, [but] it could be a problem in terms of some contractors."