Government to push ahead with standardisation but will consult further on central procurement process
The government has launched a further three month consultation on key aspects of Sebastian James' review into school procurement, in a move which will delay implementation of some proposed reforms to the school building programme.
Education secretary Michael Gove said today that the new consultation would focus on two key areas: the best model for allocating and prioritising funds, and on the proposals for a more centralised procurement process.
However, Gove said that he would push ahead "more quickly" with other reforms suggested by James, including:
Standardised designs for schools – Gove has said he wishes to develop a "suite of standardised drawings and specifications"
A programme of data collection on building condition
Simplifying regulations around school premises, a separate consultation on which will be launched in the autumn.
Despite saying that the government "was accepting the majority" of Sebastian James' recommendations subject to a "thorough consultation process over the coming months", the government has stopped short of endorsing James' proposals for a much stronger centralised procurement process, under which all but the smallest projects would be procured by a powerful central body.
In its consultation document, the department states: "There are clear potential efficiency benefits from using a more centralised approach for procurement and building project delivery, and overall we wish to move in this direction.
"However, we do not intend to over-ride existing local or regional procurement and project delivery arrangements where they are shown to be as efficient and effective at building or improving schools to a high standard […] We want to consult on all these issues further."

>> Find out more about the effective implementation of educational policies, plans, spaces, technology and programmes at Building Future Education UK 2012. www.bfeuk.com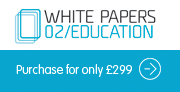 Following the government's response to the James Review. The 60 page report includes analysis of proposed procurement, design and regulatory changes as well as local authorities with the biggest shortage of school places and much more