Insurer Zurich calls for sprinklers to be made mandatory in England
Schools are nearly three times more likely to be classed as a serious fire risk than other non-residential buildings, a study has found.
Research by insurance firm Zurich found that 58% of nearly 27,000 schools it analysed fell into its high fire risk category, compared to 20% of other non-residential buildings.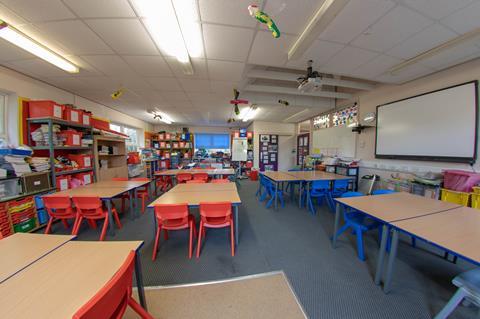 The findings indicate that over seven million primary and secondary school children are currently being taught in high-risk schools.
They also reveal that despite the average fire risk in schools being almost double that of other non-residential buildings, two thirds of more than 1,000 schools inspected by Zurich lacked adequate fire protection measures such as sprinklers.
Just 14% of schools were rated good or excellent, while 24% were judged poor for fire detection measures such as smoke detectors and fire alarms.
The insurer, which works primarily for the public sector, analysed data on 26,866 schools across England. It has now launched a parliamentary petition to urge MPs to make sprinklers mandatory in all new or major refurbished school buildings in England.
From analysis of 33,000 fires over the past six years, factors found to increase the risk of fire included listed status, presence of cooking equipment, the size of the building and poor OFSTED ratings.
Bigger and older schools, particularly secondary schools, which contain more dangerous equipment, were found to be especially at risk.
And leading causes of fires were found to be malfunctioning appliances and equipment, faulty electronics, kitchen blazes and arson, with the average repair bill for larger school fires being £2.8m.
The study estimated that the cost of repairs to fire-hit schools could reach £320m over the next decade – which it said was a significant proportion of the £1.56bn pledged by the government in its school building and repair programme launched over the summer.
The insurer said it wants the government to ring-fence some of this funding for installation of sprinklers, which are currently mandatory for new or major refurbished school buildings in Scotland and Wales but not in England.
A Department for Education spokesperson said: "All schools are required to have an up-to-date fire risk assessment and to conduct regular fire drills.
"All new school buildings must be signed-off by an inspector to certify that they meet the requirements of building regulations. Where sprinklers are considered necessary to protect pupils and staff, they must be installed."
Zurich head of education Tilden Watson said: "It costs far more to repair fire-ravaged schools than it does to install sprinklers."
He added: "The government's covid-19 investment is a critical opportunity to ensure schools are more resilient to fire. Unless ministers change the law on sprinklers, much of this funding will be wasted on repairing the fire damage that sprinklers could have easily prevented."