Projects to make the cut include health and transport schemes
The Scottish government has said work on construction sites should stop immediately – unless it is for essential projects only.
Last week Scotland's first minister Nicola Sturgeon (pictured) said sites should close, adding that the nation could repair its economy "but we cannot bring people back to life".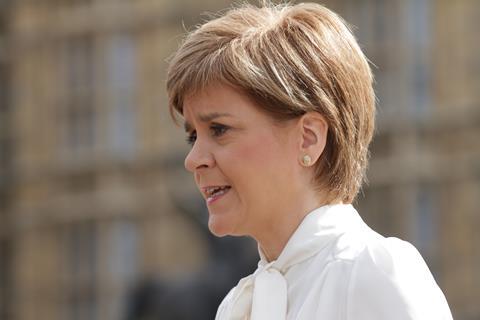 Scottish government guidance now makes it clear that work on construction projects should only be carried out if it is supporting work crucial to dealing with the coronavirus pandemic.
Any project deemed essential can only continue operating if it can comply with protocols on social distancing, safety and welfare during the covid-19 outbreak. Any site unable to meet these requirements should close, it added.
It said essential projects include those to create or repurpose facilities which will be used directly in covid-19 activities such as accommodation for key workers or freeing up space for coronavirus-related activities.
The government has also said that projects which are considered essential public services and the repair and maintenance of critical infrastructure are allowed.
Jobs that have been given the green light to continue include Multiplex's scheme to build the Edinburgh Children's Hospital and Department of Clinical Neurosciences.
Sites which have stopped north of the border include Laing O'Rourke's £850m St James mixed-use scheme in Edinburgh.
NHS boards will make decisions about continuing work on their own individual sites and projects, in conjunction with contractors.
The guidance comes into effect immediately and extends until further notice. The Scottish government said it will look again at these measures in three weeks.
Essential project examples
The following examples of 'essential' projects are provided to help developers' consideration of whether work should continue on their site:
Health sector
Edinburgh Children's Hospital and Department of Clinical Neurosciences
These are major developments which while not directly contributing to the COVID-19 situation at this point, could provide additional capacity if the situation changes.
Children's Hospital in Glasgow: refurbishment of wards 2A and 2B
Work is underway on essential water and drainage issues in the two paediatric cancer wards at the Royal Hospital for Children. The nature of the patient cohort using these wards gives these works the designation of essential.
Essential and time-critical maintenance
There are a range of small-scale projects around essential maintenance and repairs, that need to be delivered to secure sustainable and resilient services.
Bearing in mind the broad principles outlined here, we expect NHS Boards to make decisions on individual sites and projects in conjunction with the contractor/s.
Transport sector
Operation and essential maintenance of the transport network
The safe and effective operation of transport network is essential to the national response to COVID-19. There are a number of smaller scale projects that are required to be delivered which are essential and time-critical for the safe and effective operation of the road and rail network in Scotland. Works include essential road and rail repairs, essential structure repairs and ongoing safety monitoring of the networks. In addition, essential winter maintenance activities will continue as required along with incident responses required to keep the critical transport network open.
Road works and works for roads purposes
Works as defined in the New Roads and Street Works Act 1991 includes a subset of works which are vital for the wellbeing of society. The continued provision of essential utility services, energy, telecoms, water (including sewerage) within an effectively operating road network is vital during this period. Where works fall within the existing emergency and urgent works categories, and where the requirements on social distancing can be met, these are considered essential. Other planned works including proposed upgrades or non-critical rehabilitation schemes should not be undertaken during this period.
Essential and time-critical maintenance and repairs
Projects that ensure such facilities continue to function safely, and maintain essential levels of utility for their users are also considered essential in this context.
Where projects can be safely concluded at a later point they should be.
Essential projects include:
operation and essential maintenance of elements of national public, private and business infrastructure which are essential for the containment and treatment of the virus and the distribution of food, essential supplies, utilities and communications to households
the essential repair or maintenance or operation of critical infrastructure including: energy (electricity and gas) generation, transmission (including distribution) and supply; water treatment and networks; and telecom/broadband networks. These works will be required to ensure near-term network security
the essential repair or maintenance of oil and gas CNI, including that equipment that is required for the repair and maintenance, for ongoing safe production operations to ensure fuel resilience and security of supply
the essential maintenance of facilities being used to deliver essential services or manufacture and deliver essential goods
the essential maintenance and repair (but not improvement) of buildings including private homes and commercial properties. Routine maintenance should be deferred.