Fergus Ewing says subsidies for nuclear power "inevitably" mean less financial support for green energy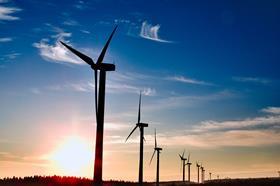 The Scottish energy minister has lashed out at the UK government's support for nuclear power, arguing it is harming investment in renewable energy projects.
Last week Scottish National Party MSP Fergus Ewing, energy minister in the Scottish government, granted planning permission for four major offshore wind farms off the Scottish coast.
The farms are set to provide 2,000MW of electricity generating capacity once complete.
But he said projects like these were not receiving enough financial support from the government in Westminster.
He said that while the projects would qualify for support, in the form of a "contract for difference", which would guarantee the price of the electricity generated from the project, there was only around £235m of financial support available for renewable projects.
He said this stood in "stark contrast" to the "unprecedented financial backing" the UK government has agreed to give energy firm EDF to help fund its £16bn Hinkley Point C nuclear power plant project in Somerset, which received approval from Brussels on Wednesday.
The European Commission, which gave the green light to the project last week, estimates the total public subsidy for the Hinkley project scheme will amount to £17bn, with the UK government also guaranteeing £10bn of finance for the construction of the plant.
Ewing said: "This inevitably means that growth in green energy will be restricted, a sector where Scotland has a competitive advantage."
He added that the UK's government's failure to impose a 2030 decarbonisation target "leaves a high degree of uncertainty for investors and could adversely impact investment and development of projects".
He said offshore wind was "extremely valuable" to Scotland's economy and its efforts to reduce its carbon emissions.