Tory MP Peter Aldous was due to deliver the bill's second reading tomorrow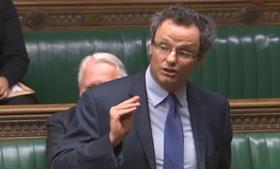 The second reading of the bill aiming to protect retentions in the construction industry has been pushed back until the summer.
Tory MP Peter Aldous (pictured) had been scheduled to give the second reading of his Construction (Retention Deposit Schemes) Bill 2017-19 in the House of Commons tomorrow (Friday).
But the bill's listing on parliament's website now has its second reading scheduled for 15 June.
Earlier this week a group of construction trade body leaders accompanied Aldous to 10 Downing St to a deliver a petition urging government to support the bill, which proposes cash retentions be held in trust accounts in order to protect the supply chain.
Ahead of delivering the petition, the MP for Waveney in Suffolk said: "Industry support for reform to outdated payment systems is at unprecedented levels, for which I am very grateful.
"The industry loses around £1m for each working day, mostly from SMEs. There have been proposals to stop the abuse of retentions before, but this time there is the largest coalition on fair payments ever."
Last week, it was revealed that more than 100 MPs had pledged their support for the bill, with the number getting behind Aldous increasing ten-fold since Carillion went under.
Defence secretary Gavin Williamson, former chancellor Ken Clarke and Liberal democrats leader Vince Cable are among the big names supporting the proposal.
Shadow chancellor John McDonnell is also supporting the proposal along with Green party leader Caroline Lucas and high-profile Conservative Remain supporter Anna Soubry.