The remuneration committee agreed to a string of big ticket payments following last July's profit warning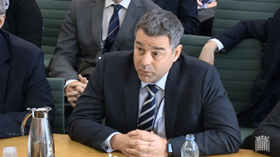 Former Carillion boss Keith Cochrane offered senior staff financial incentives to stay with the under siege contractor in the wake of the shock £845m profit warning.
In the weeks after last July's writedown, the remuneration committee approved retention bonuses for senior managers, salary increases, a fee of £750,000 a year for Cochrane's services as interim chief executive and continued payments to sacked chief executive Richard Howson.
The MPs running the investigation into Carillion's collapse have released evidence that showed the ailing contractor sought to protect financial rewards for senior staff.
Labour MP Frank Field, co-chair of the inquiry, said: "It's greed on stilts, pure and simple."
The latest publications from the inquiry reveal Cochrane sent letters to senior staff below director level that read: "As you know, you are part of the team supporting the various projects we have underway at the moment that are critical to our success in 2017 and the business plan period up to 2019.
"We have a particularly challenging period to get through and your contribution is essential. With that in mind, I would like to invite you to participate in a retention bonus that will allow us to be assured of your services until at least the end of June 2018 and reward you for your contribution between now and then."
Minutes from last September showed the remuneration committee looked at clawback conditions and agreed to extend to instances where bonuses could be reclaimed to include serious reputational damage and failures of risk management. But the MPs said they had seen no evidence that the remuneration committee sought to enforce these.
The minutes also revealed while the remuneration committee considered asking directors to return their bonuses from 2016, the restricted terms they had already agreed made this impossible. The MPs said they had seen nothing that suggested any further attempts were made to return cash from bonuses to the business.
The new evidence also revealed shareholders, including BlackRock, tried to limit the level of bonuses paid to directors in 2016.
Correspondence between BlackRock and Carillion showed the company attempted to increase the maximum bonus level to 150% but was met with resistance, forcing the company to back down to 100% of salary maximum bonus pay-out.
It has also been revealed that Carillion continued to pay Richard Howson (pictured), who had been fired as chief executive but kept on in a lesser role, his contractual pay until the company became insolvent, despite suggestions in the remuneration committee minutes that other options may be available.
Field's co-chair Rachel Reeves said: "These remuneration committee papers are further evidence that when the walls were falling down around them, Carillion bosses were focussed on their own pay packets rather than their obligation to address the company's deteriorating balance sheets.
"While these directors could still walk off with bonuses intact, workers were left fearing for their jobs and suppliers faced ruin.
"Carillion had a notorious reputation for late payments to suppliers. But while suppliers were waiting up to 120 days to be paid, Carillion directors were doing their utmost to ensure there was no impediment to their receipt of fat pay and bonuses.
"Finally, when even the Carillion remuneration committee considered asking for directors to return their bonuses, the system and culture was so dysfunctional, and the terms and clawback provisions so weak, that even this meek step was ruled out".
The committee has written to former remuneration committee chair Allison Horner, with a series of questions about the issues raised in the most recent publications.