But ambitious targets planned for onshore wind could be dropped
A commitment to build seven new nuclear power stations is expected to be announced by Boris Johnson this week as part of the UK's new energy security strategy.
The policy, which will be unveiled on Thursday, will see the government set a target to more than treble the UK's seven-gigawatt nuclear capacity to 24GW by 2050 and introduce measures to support the expansion of wind power.
The government is currently committed to backing one new large-scale power station by 2024, which is expected to be EDF's £20bn Sizewell C project in Suffolk.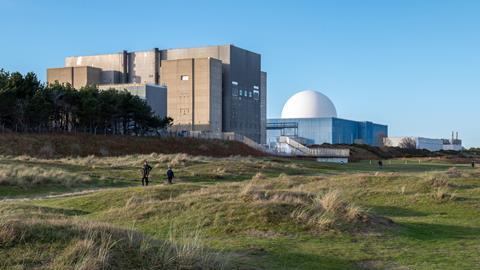 This week Johnson is expected to expand that pledge to two large plants by 2030 – the year all but one of the UK's existing nuclear plants are due to be decommissioned – in addition to small modular nuclear reactors.
The government last year gave £210m to a Rolls Royce subsidiary to develop designs for such reactors.
A new development vehicle called Great British Nuclear will aim to bring plants on stream faster by identifying sites, cutting red tape in planning and finding private firms to run the sites.
Business secretary Kwasi Kwarteng told The Sunday Telegraph that while nuclear energy had "cost a fortune" for France, which generates most of its energy from nuclear, it had "given them a measure of independence which is envied, frankly, by other people on the continent".
The energy strategy had also been expected to include ambitious targets to more than double energy output from onshore wind turbines from 14GW to 30GW by 2030 and to achieve 45GW from offshore wind by 2035.
However, there are reports the targets will be dropped to head off opposition from rural Tories, with the strategy simply committing to a review of the national planning policy framework to allow more wind farms to be built where local communities support them.
The government is also considering incentives for locals in areas of wind power development, including reduced energy bills.
There has been an effective moratorium on onshore wind since 2015, prior to which onshore wind farms were included in the 2008 Planning Act's development consent order regime, with decisions on larger farms made by the secretary of state rather than the local authority.
Even if targets for onshore production are abandoned, the government appears to remain intent on growing the capacity of offshore wind, with the prime minister reportedly urging the renewable energy industry at a recent roundtable to build a huge offshore wind farm in the Irish Sea in the next year.