Collapsed firm's bank also told it faces 'significant shortfall' on £14.5m it is owed
The administrator for collapsed contractor Shaylor Group has confirmed that unsecured creditors will get less than half a penny back for every pound they are owed.
Trade creditors are out of pocket by £19m while the only secured creditor Allied Irish Bank (AIB) is owed more than £14m.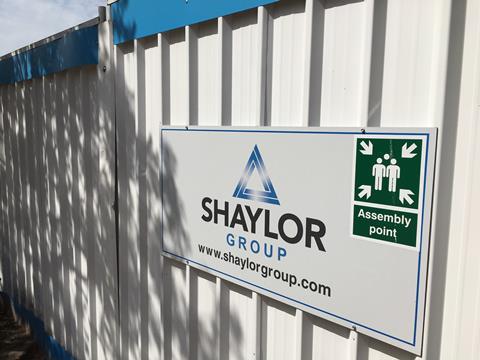 Shaylor went into administration in June, ending more than 50 years of business, leaving 210 people without jobs and creditors on the hook for more than £47m.
Administrator FRP Advisory first warned unsecured creditors last August that they will get just 0.39p for every pound they are owed meaning of the £19m outstanding, just over £74,000 will be returned.
In an update filed at Companies House last week, it said: "We currently anticipate that there is little prospect of a return to unsecured creditors materially in excess of the 0.39 pence in the pound estimated."
AIB, which is owed close to £14.5m, has recouped £2.2m following the sale of Shaylor's offices in Walsall but FRP warned it that it "will suffer a significant shortfall on its indebtedness".
FRP said just over £172,000 had been collected by quantity surveyor Leslie Keats while a car owned by Shaylor has been sold for £39,000.
Restructuring firm Gordon Brothers also raked in £10,000 for two John Deere Gator utility vehicles from an unnamed former Shaylor director. "The offer was accepted…pending a sale to a third party," the report added.
FRP said the cost of its work on the administration would top £198,000. Total costs, which include fees due to be paid to other firms working on the collapse, including Leslie Keats and law firm Eversheds, will be just over £346,000.