Council targets 2019 completion date for 900,000 sq ft retail-led development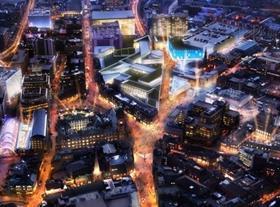 Sheffield council has unveiled plans for a £480m redevelopment of the city centre.
Sheffield Retail Quarter, designed by Leonard Design Architects, comprises about 900,000ft2 of mixed-use accommodation - mainly retail and leisure, but also including over 200,000ft2 of residential and office space. The scheme will create a street-based city-centre district, based around existing historic buildings and new outlets.
Sheffield council aims to have 80% of the scheme completed by 2019, with final phases due in 2021. It has embarked on a procurement process to appoint with a strategic development partner, with an announcement expected in late 2015.
The scheme is expected to create a total of 2,500 construction jobs and additional permanent jobs in the city centre.
Simon Green, Sheffield council's executive director - place, said: "The design merges with Sheffield's award-winning public spaces and world-renowned cultural assets - including City Hall, The Crucible and The Lyceum theatres - and links key retail pitches in the city centre from The Moor through to Fargate. This will complement the new shopping facilities and provide food and drink, office and residential space to extend the city centre's attraction as an evening entertainment option."