Five entrants shortlisted for £250,000 prize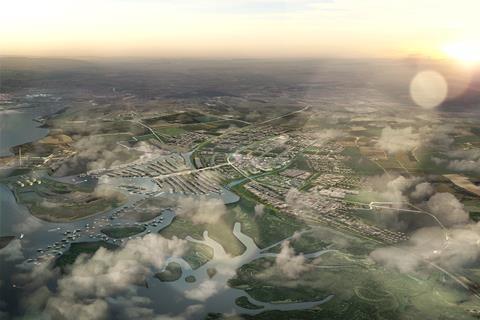 Five entrants have been shortlisted for the Wolfson Economics Prize to propose plans for a new UK garden city - Barton Willmore, Chris Blundell, David Rudlin of Urbed, Shelter and Wei Yang & Partners.
The entrants have been shortlisted for a £250,000 prize and have until August 11 to further develop their proposals before final judging.
This year's prize, devised by Next chief executive Lord Wolfson, was designed to generate the best ideas on how to deliver a new garden city in the UK.
As well as the five finalists, five of those who submitted entries have been awarded £1,000 "light bulb" prizes for particularly good innovations in certain areas of Garden City creation. Recipients of this include the civil servant formerly in charge of Gordon Brown's eco-towns programme, Henry Cleary, and construction economist Martin Hewes.
In addition a further four entrants were highly commended for their submissions. These include a submission by Peter Freeman of Kings Cross developer Argent, as well as one by veteran planner Sir Peter Hall. Of the 279 entries, 20 were from children under 16, of which three were awarded £50 each for the quality of their contribution.
Shortlisted finalists will receive £10,000 to work up their ideas in more detail. Shelter's is alone in actually identifying a specific site for the new Garden City, on the Hoo peninsula in Kent.
The winner will be announced in early autumn.
The five finalists are:
Barton Willmore, led by James Gross. Barton Willmore is the UK's largest independent planning led town-planning and design consultancy. Barton Willmore's entry sets out a ten-point plan for the delivery of a new garden city, arguing for the development of a cross-party consensus and the production of a National Spatial Plan to identify suitable locations for new garden cities. Garden City Mayors, heading up Garden City Commissions, would be appointed to champion garden cities and find specific locations for development.
Chris Blundell FRICS FCIH, Director of Development & Regeneration at Golding Homes. Chris is a development professional with over 30 years' experience and has entered in a personal capacity with the support of Golding Homes. His entry argues that a garden city should accommodate between 30,000 and 40,000 people (about the size of Letchworth) and that its delivery should be led by Garden City Development Corporations.
David Rudlin of URBED, with Nicholas Falk (also URBED) and input from Jon Rowland (John Rowland Urban Design), Joe Ravetz (Manchester University) and Peter Redman (Managing Director, Policy and Research at TradeRisks Ltd). URBED is an urban design and research practice. David's entry argues for the near-doubling of an existing large town in line with garden city principles, to provide new housing for 150,000 people (about the size of Oxford or Canterbury). The entry offers a proof of this 'urban 2 of 9 extension' concept based on a fictional town called Uxcester.
Shelter, the leading housing and homelessness charity, led by their Head of Policy Toby Lloyd. This entry proposes a new garden city on the Hoo Peninsula (Medway, Kent) commencing with a settlement of up to 48,000 people (about the size of Welwyn Garden City) at Stoke Harbour as part of a larger cluster of settlements eventually totaling 150,000 people.) The entry proposes a model designed to attract massive private investment into the provision of high quality homes, jobs, services and infrastructure. The delivery model prioritises speed and volume over profit margins, aims to acquire land at low cost and transfer valuable assets to a Community Trust for the long term. Local people would be offered unique opportunities to invest in the city, including through buying shares.
Wei Yang & Partners in collaboration with Buro Happold Consulting Engineers, led by Pat Willoughby. Wei Yang & Partners is a London-based practice with an international portfolio of master planning, town planning, urban design and architectural projects. Dr Yang is also advising the Chinese Ministry of Housing and Urban-Rural Development on its urbanization programme. Their entry argues that an 'arc' beyond the London Green Belt (stretching from Portsmouth to Oxford to Cambridge to Felixstowe) is the best location for the development of new garden cities; and that the Government should publish a New Garden Cities Strategy identifying broad 'areas of search' for suitable locations, with a 30 year timescale.
Highly Commended Entries
Mark Brierley of NVB Architects (Frome, Somerset) and Patrick Newberry, an independent consultant and non-executive director, for a well-presented proposal with a clear and attractive vision, covering most of the main delivery issues but with added insights lacking in some other entries. The way in which this entry tested four illustrative sites added credibility and the detailed costings were welcome.
Peter Freeman of Argent (developers of King's Cross) for his wide range of ideas on securing popularity, compensation and governance and a credible financial model; the Judges felt this was an extremely well presented entry with a good analysis of the difficulties that those developing large settlements face.
Professor Peter Hall of University College London (with Professor Wulf Daseking, David Lock, Will Cousins, David Rudlin and John Walker) for his ambitious national vision based on the possibilities offered by HS2 to raise land values, with proposed new clusters of garden cities near Daventry, Rugby and Preston. This submission imaginatively combined the 'social city' principles of Ebenezer Howard with up to date thinking on sustainable urban development from Freiburg, Germany.
Alice Leach and Richard Crutchley, both town planners, for a financially-aware and credible proposal with a very clear survey of relevant financial issues. The Judges enjoyed this entry's introspection into the definition of key terms in the Prize Question and the way it presented a vision of the future through the eyes of the city's future Mayor. They felt it was a human proposal designed for real people.
'Light Bulb' Prizes
Ben Clark for his idea of crowd-funding a new city via the internet. A number of entries identified this opportunity, mentioning projects like a bridge in Rotterdam or a skyscraper in Columbia that had been funded this way. Peer-to-peer lending (ie debt rather than equity funding) was also mentioned. But Ben's submission provided the best survey. Ben is an architect.
Henry Cleary and Andrew Wells for their specific ideas on how to hold a referendum to test local support for a garden city proposal, including details of eligibility criteria and the alternatives that voters should be offered. Their entry suggests a process to go through before holding that referendum, suggests who should be eligible (including, crucially, those who have pre-registered an interest in living in the new development) and how the voters should be presented with a range of alternatives to choose from 4 of 9 which don't include 'do nothing'. Henry and Andrew are consultants who formerly worked as civil servants at the Department for Communities and Local Government.
Martin Hewes for his proposal that older/retired people should form the core pioneer population for the new garden city. This paper sets out the demographic issues arising from an ageing population and argues that we need to make a much better housing and community offer to older people to reduce the risks of isolation and ill health in old age. This entry draws attention to the potential for garden cities to solve the housing problems of more than the young 'pioneer' first time buyer usually seen as the typical new town dweller. Martin is an economic consultant and forecaster, primarily in the construction industry.
Robbie Kerr for his comprehensive and clear ideas on using bond financing mechanisms to fund a whole new city. Although bond finance is already used by a number of developers, this submission argues convincingly and concisely for bond finance split into construction and infrastructure bonds, and identifies the potential role that Islamic finance could play. Robbie is an architect.
Lachlan Robertson MRTPI, for a range of convincing ideas on protecting the interests of affected residents, including 'property bond' style mechanisms (such as those proposed for campaigners affected by HS2) which guarantee property prices; extra pensions linked to the value of the city; a menu of ideas on mitigating environmental, amenity and privacy concerns that go well beyond the existing planning system; and a further menu of ways to record and celebrate the area's heritage to prevent it being 'lost'. Lachlan is a town planner and management consultant.