Architect behind Berkeley Group's One Blackfriars says many of 263 proposed building will not get made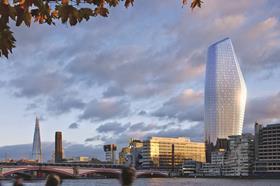 Ian Simpson, the architect behind Berkeley Group's One Blackfriars tower, has described the project as a scheme that "could only happen at this moment in time".
Simpson added that he believes many of the towers proposed for London will not be built out.
The One Blackfriars tower (pictured), which has been 15 years in gestation, will be one of Europe's tallest residential towers at 170m. The London scheme is being developed by Berkeley Group subsidiary St George as part of a development which will also include a hotel and retail space, and is due for completion in 2018. Brookfield Multiplex is contractor on the project.
Speaking to Building to coincide with the London Festival of Architecture, Simpson acknowledged that it had been a "battle" to get the project under way. A version of the scheme had originally been proposed by the Beetham Organisation, but the development was placed into administration during the recession. Berkeley bought the scheme in 2011.
Simpson said that he believed the project "could probably only be done at this moment in time, in London, right now", due to the risk involved in complex high rise developments. He added: "There are tall buildings underway elsewhere, in Manchester for example, but they aren't as complex."
There has been much controversy over the number of towers currently being proposed for London, with a recent survey by New London Architecture finding that the number of towers over 20 storeys being planned for the capital has gone up more than 10% in the past 12 months to 263.
However, Simpson said he thought a significant number of these towers - 76 of which did not have planning permission at the time of the survey – would not end up being delivered. He said: "What I think is important is that a tall building is elegant. You can't have a series of extrusions and call it architecture."
The One Blackfriars project will have a curved glass facade, and has been designed on an axis so that it appears at its most narrow when viewed from St Paul's Cathedral.