Contractor denies liability for damages caused by the use of blacklisting organisation and details involvement of other firms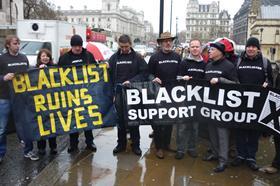 Sir Robert McAlpine has laid out details of the involvement of rival contractors in blacklisting in its defence of a High Court claim from alleged victims of the activity.
Sir Robert McAlpine denies liability for any damages caused by the use of the services of blacklisting organisation the Consulting Association (TCA).
However, as Building revealed this month, Sir Robert McAlpine has responded to the compensation claim it is facing from alleged victims of blacklisting with a defence that adds nine other major contractors as co-defendants to the action along with a host of their subsidiaries.
The case has been brought by around 80 alleged victims of blacklisting, who claim Sir Robert McAlpine "took a central role" in the activities of TCA, the blacklisting firm, which worked for 44 construction companies and was raided and closed down in 2009.
Building has seen details of Sir Robert McAlpine's Part 20 defence, which has added Balfour Beatty, Skanska and Carillion as third party co-defendants, along with Bam, Amec Costain, Laing O'Rourke, Kier and Vinci.
The defence admits Sir Robert McAlpine was a user of TCA, but denies it was liable "in respect of any loss or damage which may have been caused to any claimant"; denies there was any conspiracy; and denies it intended to cause injury to the claimants.
The defence adds: "If, contrary to SRM's [Sir Robert McAlpine] defence, SRM is liable in respect of any damage suffered by the claimants […] then SRM will repeat and adopt the claimant's allegations of conspiracy as against the named third parties."
The defence details the nine main contractors' role in TCA, stating that "different members of TCA took different courses of action in relation to both the information they provided to, and the information which they obtained from, TCA."
It says Balfour Beatty was "one of the largest users of TCA" and that it "appear[s] to have taken a particularly hard-line approach to refusing employment to workers on whom TCA retained record cards".
The defence describes Carillion as a "heavy user" of TCA in terms of providing information on individual workers, while it claims Skanska adopted a "hard-line" approach in refusing employment to individuals on TCA's database.
A Carillion spokesperson said it had apologised for its previous use of TCA, which it said it "proactively" stopped using in 2004.
She added: "As we have repeatedly said, we believe we have no legal liability and will defend our position vigorously."
A Skansksa spokesperson declined to comment on the Part 20 defence but said the firm was "truly sorry for its involvement" with TCA.
Balfour Beatty said in a statement: "We do not comment on matters that are before the courts".
Read an interview with anti-blacklisting campaigner Dave Smith here