Exclusive: Contractor replaced on £40m fit-out of luxury hotel at the Shard in London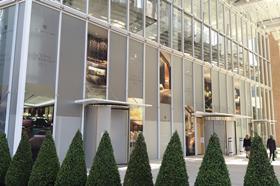 Contractor Sisk has been replaced on the high-profile £40m fit-out of the Shangri-La luxury hotel at the Shard skyscraper in London.
A spokesperson for Shangri-La told Building: "Shangri-La Hotel, At The Shard has decided to end their relationship with the present contractors for the fit out of Shangri-La Hotel, At The Shard, London.
"A new contractor has been appointed to complete the work. Shangri-La Hotel at The Shard is fully committed to opening and running their latest European hotel."
The spokesperson declined to name the new contractor on the job.
However, Building understands the new contractor is Chorus Group.
One subcontractor told Building that workers were being turned away from the job this morning: "I turned up for work this morning and I couldn't get in.
"Security guards were handing out flyers saying Sisk's contract had been terminated and the new contractor was Chorus Group."
Another subcontractor, based in Ireland, said he had boarded a plane to London to work on the Shard hotel scheme when he got a call from his boss telling him the news and he had to get off before it taxied out to the runway.
Building revealed in June that the project was running at least six months behind schedule.
A spokesman for Ireland-based John Sisk said: "John Sisk & Son can confirm that it is no longer working on the Shangri-La fit out at The Shard.
"Despite our best endeavours, we have not managed to find a way forward with Shangri-La and a decision has been made to end the relationship."