Prime minister Boris Johnson to brief England on new measures at 8pm tonight
Construction has been told it can continue working in Scotland – despite the country going into a lockdown from midnight tonight.
First minister Nicola Sturgeon ordered Scots to stay at home because of a fresh covid-19 lockdown which will see schools and nurseries closed until February.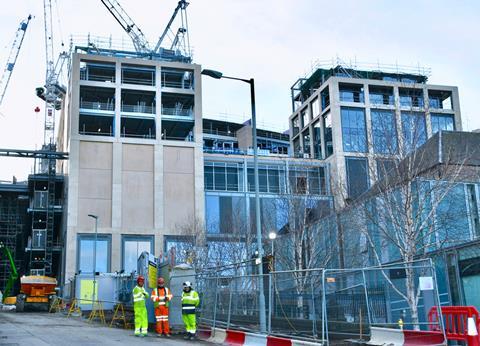 But according to official Scottish government advice, construction is one of a handful of industries than can remain open although they have been told to "plan for the minimum number of people needed on site to operate safely and effectively".
The advice says "people are strongly advised to work from home wherever that is practicable" and adds: "Home visits by tradespeople should only be for essential services."
Addressing the Scottish parliament, Sturgeon said: "The current 1 metre exemption for workplace canteens will end – so canteens will have to ensure that employees sit 2 metres or more apart, rather than 1 metre."
The tougher restrictions are set to last for the whole of January and come in the wake of a more contagious strain of the virus which has swept Scotland in recent days, with the number of covid-19 cases per 100,000 people increasing by 65% in the week from 23 to 30 December.
Sturgeon said she was "more concerned about the situation we face now than I have been at any time since March last year", adding that recent analysis suggests that the new variant of the virus already accounts for almost half of new cases in Scotland.
One of the biggest schemes being built in Scotland is Laing O'Rourke's £850m Edinburgh St James Quarter mixed-use project which last month the firm said was facing "potentially irrecoverable covid-19 costs" which it blamed on the first extended lockdown north of the border.
The new rules are the strictest seen north of the border since the height of the lockdown in April, when the Scottish government issued guidance urging all "non-essential" construction projects to shut down.
Bam, Kier and Morgan Sindall were among contractors which were forced to shut their sites in April.
Meanwhile, south of the border prime minister Boris Johnson is due to brief England at 8pm tonight outlining further steps that need to be taken to combat the spread of the virus.
Earlier, former health secretary Jeremy Hunt, in a series of Twitter posts, said England needed to go into a lockdown as soon as possible.